Flood Insurance – To Buy or Not to Buy?
Even two inches of water can cause severe consequences to your property. No matter if it's about a natural disaster or a broken pipe, an excessive amount of water can be quite dangerous, and the costs of the damage can be enormous – therefore, you should consider flood insurance that will provide you with appropriate protection.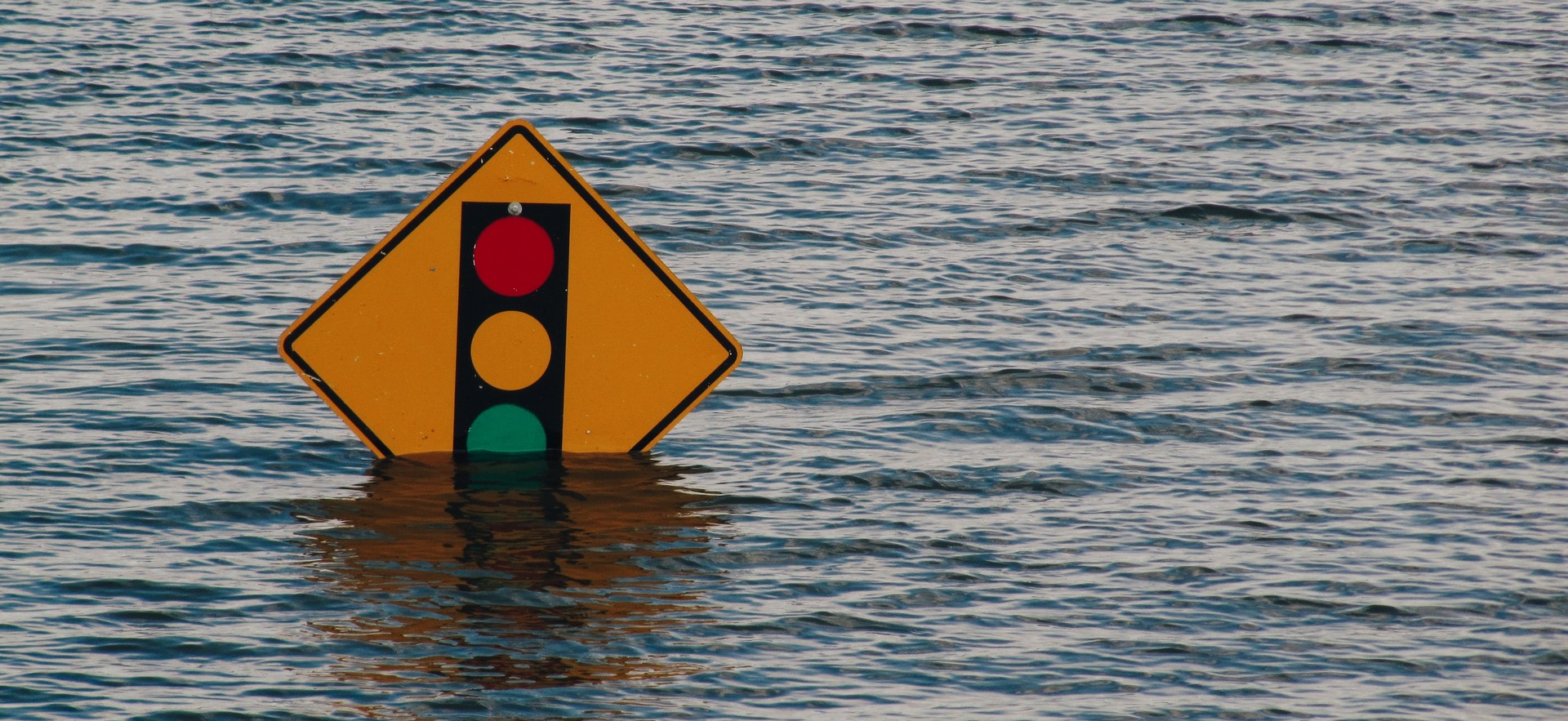 Floods caused by hurricanes, burst pipes, heavy rains or any other disasters can significantly affect your property. The damage doesn't need to be huge, but in most cases, people need to leave their homes, buy new furniture and appliances or rebuild the parts that became uninhabitable. The costs of such repairments and replacements are usually high, and if you are not covered with
flood insurance
, you may face serious investments your budget might not be able to handle. As well as
earthquake insurance
, this one also requires a separate policy, which is why people mostly avoid purchasing it – before you say 'no,' let's see how it can help you in hard times.
What Does Flood Insurance Cover?
Homeowners
or
property insurance
won't help you when it comes to the damage caused by floods. Such catastrophe requires a separate policy that will kick in in case of hurricane, tsunami or another disaster that could affect your home and belongings. You can include a flood coverage to any policy that you already have, and it's available to homeowners, condo owners, business owners, landlords and renters. Once added, this policy will cover the following issues:
Furniture, clothing and other personal assets
Curtains
Electrical and plumbing systems
Heating and cooling systems, such as air-condition
Kitchen equipment, including dishwashers or any other built-in appliances
Replacement or repairment of flooring
Permanently installed paneling, bookcases or cabinets
Window blinds
Detached garages
Freezers and other food contents
Valuable items up to $2,500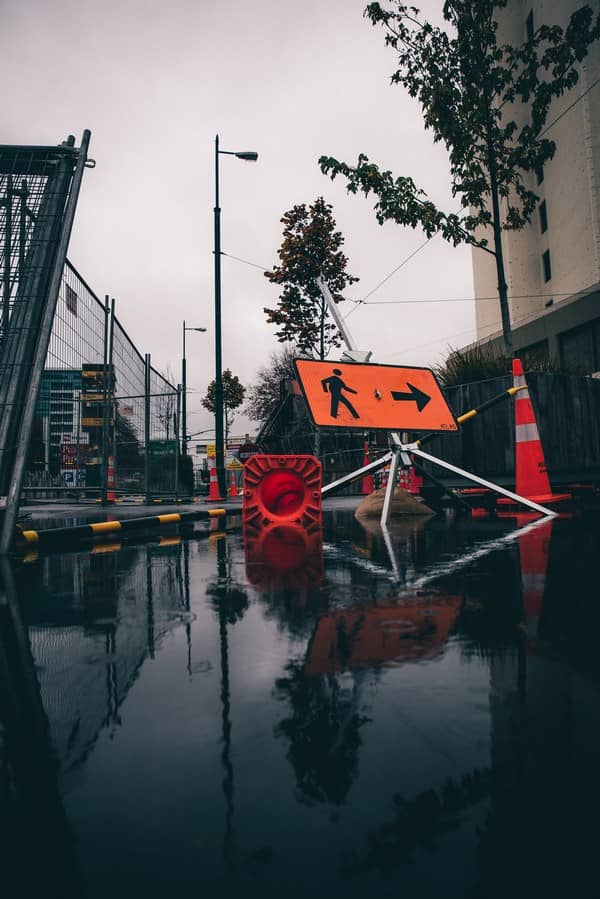 You shouldn't forget that there are some limitations and exclusions when it comes to flood insurance policy. According to the National Flood Insurance Program (NFIP), the following types of hazards are not covered by the mentioned insurance:
Damage caused by moisture, mold or mildew that the property owner could have prevented
Damage caused by earth movement that provoked the flood
Additional living expenses, including temporary housing due to home or building repairs
Property and belongings outside of an insured home or building, including fences, plants, trees, swimming pools or hot tubs
Currency, precious metals and stock certificates
Vehicles and their parts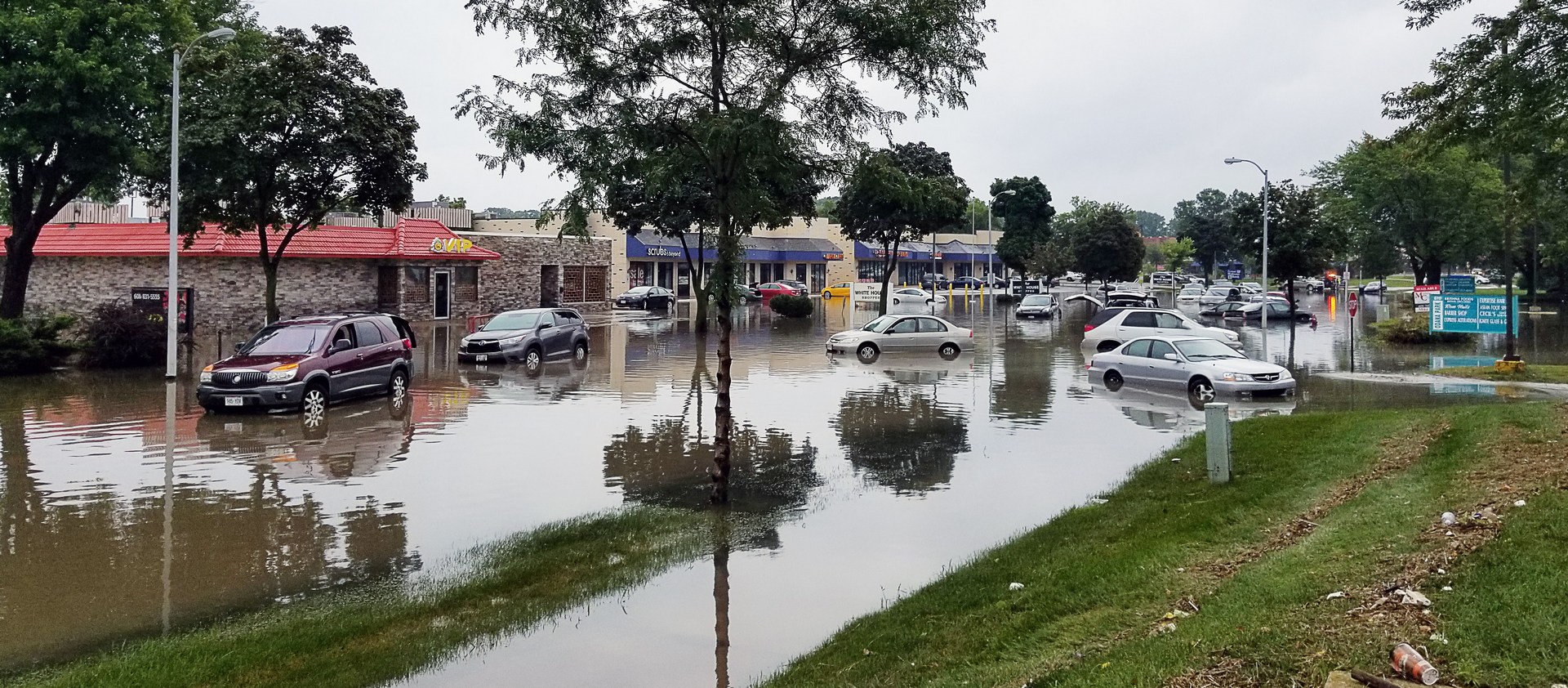 Do I Need Flood Insurance?
Generally speaking, you are not required to have a flood policy. However, under some circumstances, you must have such coverage – for example:
You've got a mortgage: No matter if you live in a high-risk or low-risk flood area, your lender will probably require you to have insurance for your home or business with a mortgage.
You've already received disaster assistance: If you live in a high-risk flood area and you have already received the support in the form of FEMA (Federal Emergency Management Agency) grants or any other loans, you must maintain the flood insurance if you want to be eligible for future federal disaster aids.
Even though you are not federally obliged to have the policy that will protect you from floods, you shouldn't avoid it at all costs. Have in mind the following situations and think again:
The government won't necessarily help you: You'll receive federal disaster assistance only if there is a Presidential Disaster Declaration where most flood events are not included. And even if you get the loan, you must repay it, which is not the case with the insurance.
You are renting the property: A flood damage is not included into your renter's policy, and if you want to protect your belongings, make sure you purchase flood insurance for renters that'll usually cover the contents up to $100,000.
Low-risk flood areas are still risky: Although the area you live in is considered safe from floods, that doesn't mean that they can't occur there. Rainfalls, snowmelts and broken pipes can still cause catastrophes and high costs of repairments that can affect your budget.
How Much Is Flood Insurance?
Flood insurance cost is determined by many factors, which means that you can end up paying a fortune for it or getting and extremely cheap policy. Some of the factors that your
insurance agency
will consider are:
The area you live in: If you fall under the NFSA (Non-Special Flood Hazard Area), the price for your policy will be lower than the one for those who fall under the SFHA (Special Flood Hazard Area) category. So, the zones that are more prone to floods include more expensive plan than those that are less risky.
The amount of coverage that you want: When buying flood insurance, you'll be asked about the exact amount of coverage that you want in order to protect your assets and structural damage or loss. The more the coverage you want, the higher the price will be.
The design and age of your structures: The owners of older homes will get more expensive policies since floods can cause more severe damages to older structures than to newer ones.
Location of the lowest floor: Concerning the Base Flood Elevation, which determines the elevation to which floodwater is anticipated to rise during the base flood, the insurance agency will calculate the exact price of your insurance plan.
Also, it's essential to know that most insurance providers will offer you a discount or a low-cost policy if you live in a state of moderate or minimal flood risks. If you are not sure whether you are is more or less prone to such a catastrophe, you can check the
FEMA Flood Insurance Rate Map
. This map is an official public source of information that can help you understand the flood risk, and you can use it to determine the flood risk of your zone. Let's see, for example, the flood risk in the City of San Diego, California: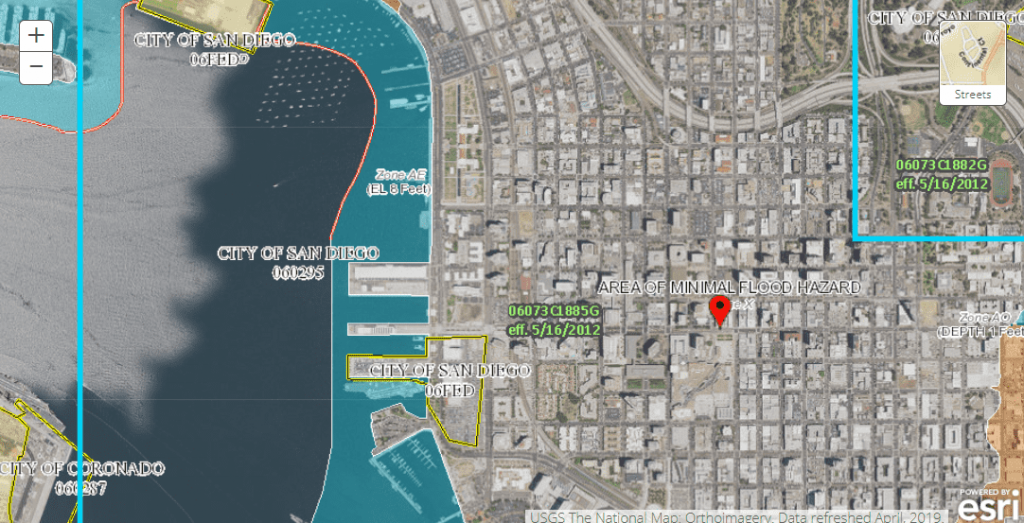 As you can see, one city zone is labeled as an area of the minimal flood hazard, and such a region is located further of the ocean, which reduces the risk of the damage. On the other hand, the zone closer to the coast is marked as Zone AE, which means that it falls under the category of Special Flood Hazard Areas. If you want to get more precise information about the flood risk in your zone, you can enter your address or coordinates in the search box. Apart from FEMA flood insurance, which is the most common one in the USA, there are many other private insurance companies and agencies that offer policies that are as comprehensive as the one offered by a federal program. Private insurers can even offer you additional options that are not a part of the federal policy, such as coverage for living expenses in case you need to leave your home while it's being repaired. According to ValuePenguin, the average cost of flood insurance provided by FEMA is $699 per year. Still, some countries pay more, and some less, for example: The states such as Connecticut, Vermont, Rhode Island, Massachusetts, and Pennsylvania fall under the category of the most expensive policies, and the citizens will usually pay more than $1,000 annually for the coverage. On the other hand, flood insurance rates in Florida, Maryland, Texas, Utah and Louisiana go from $500 to $700. In most cases, the maximum amount of coverage for residential property is $25,000 for the structure of the home and $100,000 for its contents, while the commercial property will include $500,000 for the building and $500,000 for the contents. Private agencies will probably provide you a bit different pricing plans, and most of them will allow you to request a flood insurance quote online.
5 Extra Tips on How to Protect from Potential Flood Damage
Floods occur every day, and even the most negligible factor may provoke damage that could cost you a fortune. Still, you can do something that will reduce the risk of losing your home and assets in case of excessive water.
Use water-resistant building materials: Use materials that are more resistant to moisture, mold, water and flooding to protect your walls, floors and furniture from potential damages.
Install backflow valves or standpipes: Sewer backups can cause leaks and pipe bursts that can provoke both floods and health hazards, which is why it's essential to install backflow valves or standpipes. That way, you'll prevent a colossal catastrophe.
Protect your electrical devices: We all know that the contact of electricity and water can be more than dangerous, and it's crucial to raise all the electrical wiring (washer, dryer, water heater, oil tank, etc.) on concrete blocks, above the base flood elevation.
Install and maintain a sump pump system: A sump pump is a small pump that's installed in the lowest part of the basement, and its task is to pump the water out of the pit and away from the house or building, making sure the below-grade floors stay dry.
Install flood shields or built-up barriers: Shields and barriers installed on the windows and doors can prevent the water from entering your home. When putting them, make sure their tops can extend above the base flood elevation.
These tips can be useful for people who live in a high-risk flood area, but the extra home protection is never a bad idea, regardless of the location.
H&M Insurance Agency Protects a Roof Over Your Head
H&M Insurance
is a San Diego-based insurance agency which has been successfully performing the business for 50 years. Our task is to provide your residential and commercial property with an adequate amount of flood coverage, and your task is to tell us your specific needs and demands based on which we'll craft a unique policy that will cover all the aspects of your home and business. Thanks to the long-term collaboration with the most prominent names of the insurance world, such as
Safeco, Nationwide, Markel
and the others, we make sure you are getting the best
flood insurance San Diego
offers.