Business Owner's Policy (BOP) Insurance in San Diego
Let H&M Insurance Protect Your Business with Affordable BOP Coverage
H&M Insurance offers Business Owner's Policy (BOP) insurance to a wide range of small and mid-size businesses in San Diego and throughout California. A Business Owner's Policy provides highly comprehensive coverage for the daily operations of a business by integrating the following coverages: property insurance, general liability insurance and business interruption insurance.
We provide specialized BOP packages for business owners in a variety of industries. Whether you are in the hospitality, construction, retail, food, or automotive industry, we can tailor an insurance package to the specific requirements of the sector in which you operate. H&M Insurance ensures maximum protection of your business investment. Contact us today to learn how we can safeguard your future success.
What Is Business Owner's Policy Insurance?
A Business Owner's Policy (BOP) is a type of policy that integrates three major coverages, with additional protection, into one: general liability, property insurance and business interruption insurance. This comprehensive, cost-effective insurance package safeguards against the unforeseen risks associated with managing a business. BOP is an ideal option for small-to-medium-sized businesses.
What Does a BOP Cover?
Business owner's policy provides a comprehensive and straightforward approach to protecting small business owners. This insurance policy combines a variety of vital coverages into a single and simple package. The following are some of the coverages that are included in a BOP:
General Liability Insurance
General liability insurance safeguards your business from liability claims from third parties, such as personal injury or bodily injury. It addresses the everyday operational risks that small businesses face. An additional general liability policy is not necessary for businesses holding a Business Owner's Policy.
BOP with general liability insurance can include the following coverages:
Personal Injury
Bodily Injury
Property Damage
Damages to Premises Rented
Product Liability
Electronic data liability
Employee Actions
Crime Protection
Medical Expenses
Property Liability Insurance
Property liability insurance provides coverage for accidental damage to business furniture, inventory, tools, and equipment. In addition, it includes coverage for the following: movable property, loss of income and pollution cleanup and debris removal.
Business Interruption Insurance
Also referred to as business income insurance, it is one of the most important types of coverage for most small and mid-sized business owners. Its main purpose is to restore income you lost temporarily due to a covered loss, such as premises damage. For instance, a tree falls and damages your offices, and you need to close them for repairs, this policy can help cover the cost of your lost income while the premises are being repaired. It may also cover business expenses such as mortgage, rent or lease payments, revenue, payrolls, taxes, etc.
We Are Top Rated BOP Provider in San Diego
We've been with H&M Insurance since 2007 for all our insurance needs. In the past 10 years as we engaged in business, they've been our one-stop for workers comp, general liability, commercial auto and E&O. With that said we had auto and E&O. With that said, we had auto insurance claim that's been handled professionally and timely. Goran is very knowledgeable, and his advice is always highly appreciated.
Reasons to Buy at BOP at Herriott & Mijailovic Insurance Agency
The secret to our stellar success is nurturing long-term relationships with both our clients and top insurance providers.
We are here to be your trusted and long-term partners, having your best interest in our minds.
50+ years of experience in California insurance market
Budget-friendly premiums with flexible payment options
Partnering with A+ insurance providers
Custom-tailored policies with vast array of options
Family-owned and operated
Simplified and innovative procedures from beginning to end
Quick and efficient claim handling
Fostering exceptional service and stellar communication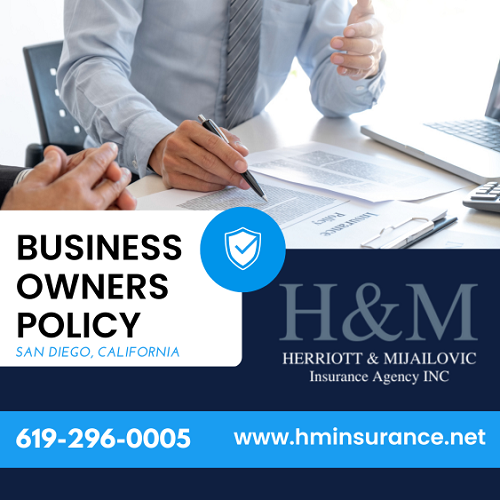 What's Not Covered by BOP?
A business owner's insurance policy may be able to provide coverage for a range of potential business risks. However, it does not cover the following:
Employee Injuries
Workers' compensation insurance, also known as workers' compensation, is the insurance policy that pays for medical bills, physical therapy and certain lost wages for injured workers. In most states, workers' compensation insurance is required by law for businesses with employees.
Commercial Auto
Commercial auto insurance covers commercial vehicles. In most states, commercial auto insurance is required when your company owns the vehicle or if the vehicle is primarily used for work.
Employee Discrimination
Claims of harassment, discrimination, and wrongful termination are not covered by BOP. However, you can purchase an additional policy (endorsement) to help you pay the legal costs.
Destroyed Payment Records
In the event of customer records' loss due to a fire for example, you may experience difficulties in recovering outstanding payments. By adding an endorsement to your existing BOP policy, you could be covered for these costs.
Endorsements – Additional Coverages to Consider
It is possible to add additional coverage to your BOP bundle to fit all your needs. Some of the additional policies include:
Data Breach Insurance helps companies recover from a breach that reveals personal information, including credit card numbers.
The Professional Liability Policy protects against service quality disputes.
Business Renter's Policy covers fire, vandalism, and weather damage to your rented business space.
Contractor's Tools and Equipment protects property and assets (tolls) in transit
Liquor liability Insurance covers beverage industry businesses against injury claims for serving or selling alcohol
Who Needs BOP Insurance?
If you own a small or mid-size business in San Diego or California, you should opt for BOP, as it will safeguard you against numerous risks and provide you with peace of mind and security.
In addition, it protects your business from damage caused by fires or burglaries, for example. It also covers claims from your business activities, like property damage or advertising injury claims. Many small business owners are unaware that a general liability policy does not protect against property damage, and they need to purchase a Business Owner's Policy to get the right coverage. BOP policy usually comes at a lower price than if you purchased the policies individually.
Business owner's policies are a must-have for any small business owner looking to protect the capital they've invested in their business. They're also a great option for small business owners with limited budgets, as they're typically less expensive than separate general liability or commercial property insurance policies.
A Business Owner's Insurance may be appropriate for businesses with actual physical location and those that need investment and assets protection, such as:
Auto service & repair shops
Cleaning services
Consulting
Food and beverage
Florists
Gyms
HVAC and plumbers
Electricians
Healthcare professionals
Nonprofits
Personal care
Real estate agencies
Retail shops
Our proficient insurance agents will assist you in designing a plan that satisfies your requirements at an affordable price.
What Are the Advantages of Getting BOP Insurance?
With H&M agency, the process of buying Business Owner's Policy is simplified. Our representatives will customize the policy according to your specific needs while keeping the costs down. Major benefits of getting a BOP include:
Saving money
Peace of mind
Comprehensive protection of your business and assets
Custom-tailored insurance according to specific business needs
Possibility of adding additional coverages
How Much Does a Business Owner's Policy Cost in California?
Whether you're a small or mid-sized business owner, you most likely have various insurance needs. However, budgeting for each of them can be quite challenging. Fortunately, a good BOP package is typically less expensive than if you had purchased multiple individual insurance premiums.
It's important to keep in mind that every small business is different, so insurance rates will differ. Getting a quote is the easiest way to get an idea of how much BOP will cost you. Call us at (619)296-0005 or fill out online form to find out what the rate will be for your specific needs and to see whether you are eligible for Business Owner's Policy savings based on:
Risk Exposure
Profession Type
Claims History
High Coverage Requirements
Get Expert Guidance on Business Owners Insurance
We are committed to finding the most suitable insurance policy for your business. Furthermore, we strive to provide expert advice and guidance to help you stay protected and peaceful. We are proud to be partners with a variety of leading insurance providers, including Nationwide, Hartford, Next and Progressive. To learn more about how we can help you save money, please fill out our online quote form or contact us by email or telephone at 619-296-0005.