Business Interruption Insurance San Diego
Protect Your Company With Affordable Business Income Insurance
If you operate a small business, it is vital to have a proper insurance coverage and to be backed by a dedicated and knowledgeable insurance agent. At Herriott & Mijailovic, we specialize in finding the best possible small business insurance. Every policy is customized according to your business needs to get you maximum protection, minimize financial losses and bring you peace of mind. This includes business interruption insurance, also known as business continuity or business income insurance. This insurance serves as a safety net, compensating for the revenue loss. If there's an incident, such as damage to your property, which is covered by your insurance and causes you to temporarily shut down your business, this insurance will help compensate for the revenue you lose during that closure.
Herriott & Mijailovic is an independent insurance agency from San Diego, with roots going back 50 years. Over the years, we have grown into an all-round agency serving thousands of businesses and individuals. We take care of you by providing the best coverage from major nationwide recognized insurance companies like Hartford, Next, Nationwide and Progressive. Call us today on (619)296-0005 or fill out an online contact form.
What Is Business Interruption Insurance?
Being in charge of a company can be rather difficult if you do not have the right insurance. Disastrous natural events, such as a fire, winds, a hurricane, or hail, can sometimes force a business to cease operations and shut down temporarily. Business interruption insurance, or business income insurance, is one of the coverages that most companies should carry. The main purpose of this policy is to help you transition and overcome hardships caused by unfavorable events.
Business interruption insurance can help compensate for:
lost income (that would have been earned)
daily operating costs (relocation expenses, payroll, rent, etc.)
Almost any business can benefit from this policy as it protects against financial damage, which can sometimes be catastrophic. Without this insurance, grocery stores, clothing shops, hotels, restaurants, law firms, and other businesses with high cash flow would experience unfortunate consequences. For instance, if the roof becomes damaged due to a tree fall, and you have to close the business for the repairs, this policy can help pay for the revenue while the roof is being repaired. Or, if you have lost revenue due to a local authority road closure or city curfew, business income insurance may compensate for the damage.
Note that business interruption insurance is included in Business Owner's Policy (BOP) along with commercial property insurance or general liability.
Business Interruption Coverage Provided by H&M Insurance Agency
Herriott & Mijailovic independent insurance agency provides several different types of business interruption coverages:
Business Income
In case your business is temporarily closed, this coverage helps in financing lost income and extra expenses, such as lost revenue, payroll, taxes, and other general expenses.
Extra Expense
This type of policy helps compensate extra expenses needed to avoid closure, like temporary relocation and equipment rental, overtime work costs, and temporary transportation.
Civil Authority
Civil authority insurance serves to protect you against damage caused by local authority closures or similar situations which obstruct you from running a business.
Contingent Business Interruption
Contingent business insurance helps pay for the financial losses as a result of operational disruption of a supplier.  For instance, a fire accident may stop your supplier from delivering the goods on time, thus making you lose money. Contingent business interruption policy can cover the lost income.
What is Included in Business Income Insurance?
There are certain areas that are not covered, so let's take a closer look below.
What Is Covered?
Business interruption insurance policy compensates lost revenue caused by accidental damage such as a fire. Under certain conditions, it covers the operating expenses, too.
Lost revenue
Payroll
Expenses of relocation due to the damage of the property
Rent, lease, and/or mortgage payments
Loan premiums to be paid during the closing
Expenses to train employees to operate new machines
Taxes
What Is Not Covered?
This policy does not cover for the following:
Flood and earthquake damage (you have a possibility of purchasing an additional policy, for instance, earthquake insurance)
Income that is not documented
Broken items from an event that is covered
Utility bills if the business is at halt
Communicable diseases as cause of shutdown
How Much Business Interruption Insurance Coverage Do I Need?
In insurance, limits on the policy serve to determine what the maximum dollar amount is that the insurer is obligated to pay out for claims. Every business continuity policy has a coverage limit, and it can sometimes be challenging to decide the maximum amount of the coverage.
At H&M, we recommend to take into consideration gross earnings to be able to make a profit estimate. This should help you identify the right coverage limit amount. Please note that any amounts that are larger than the coverage limit will have to be paid by you.
To decide how much coverage your business needs, think of the following:
Gross income and inflation
Length of time it would take to recover
Employee costs
Whether fire alarms, smoke detectors, and sprinklers are in full operating condition and up to date
What the rent would be for a temporary relocation or moving
How Long Is The Restoration Period?
Typically, your policy will have a "restoration period", which is the length of time the policy compensate for lost income. It usually lasts up to a year, with a 48 to 72 hour waiting period before the policy is activated. Check the details of your coverage to find out how long the restoration period lasts in your case. Furthermore, do not forget to renovate and rebuild in a timely manner, to make sure you will be reimbursed and to avoid unfortunate consequences.
Which Businesses & Industries Can Benefit From Business Interruption Policy?
Business interruption insurance is recommended for the majority of small businesses, particularly for the ones that have a fixed location, or the ones that are using specific equipment and machinery to operate their business. Issues like theft, fire, wind, or falling objects can cause serious disruption to daily operations, with significant financial damage. Industries depending on business income policy are retail, food and beverage, construction, manufacturing and many more.
Companies that should consider carrying this coverage are:
fixed locations (offices, restaurants, retail stores, salons, spas, etc.)
relying on particular equipment, tools, or machinery
having loans, leases, or mortgage
inventory or supplies storage location
high operating budget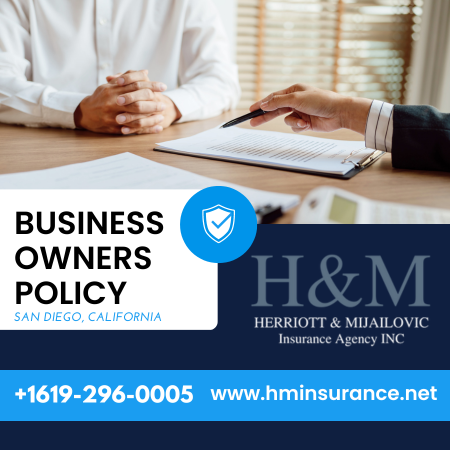 How Much Does It Cost ?
The cost of business continuity insurance depends on numerous factors like industry type, the number of employees, coverage limit, and so on. Furthermore, the location of your company can also be a determining factor. Typically, if you are located in a higher risk area (winds, or wildfires for instance), you will have to pay higher insurance premiums than businesses located outside of these zones.
Why Choose H&M Insurance Agency?
Harriett & Mijailovic is San Diego's leading independent insurance agency, specializing in providing insurance coverage for a wide range of industries. Our mission is to work diligently to enable small businesses to choose and carry the most suitable insurance coverage for maximum protection and peace of mind.
50+ years of presence
100% customer-focused
Family-owned, licensed agency
Budget-friendly prices
First-class customer support
Partnering with top-rated insurance providers
San Diego market specialists
Fast response time & streamlined procedures
"We've been with H&M Insurance since 2007 for all our insurance needs. In the past 10 years as we engaged in business they've been our one-stop for workers comp, general liability, commercial auto and E&O. With that said we had auto insurance claim that's been handled professionally and timely. Goran is very knowledgeable, and his advice is always highly appreciated."
Contact Business Interruption Insurance Provider: Call (619)296-0005
We can help you protect your small business with the most suitable custom-tailored business interruption insurance policy. This coverage can help compensate for lost revenues and ease the recovery process after certain unfortunate natural events. To find out more about how you can further guard your company at an affordable price, call us on (619)296-0005. Alternatively, we can be reached via our contact page.