Insurance for retail stores in San Diego is not one-size-fits-all, so it is important to think about your particular business needs. H&M insurance offers business insurance based on the specifics of your business. We can help you customize your coverage so you can get back to focusing on getting your products into the hands of your clients as soon as possible. We know that running a retail business is not an easy job. You work hard each day, and the risks you face on a daily basis are great, so the right store insurance in California can help you protect your business against financial losses.
A team of dedicated agents will help you connect with one of the top-notch business insurance providers for a personalized retailer insurance quote. Stores that have experienced problems like third-party property damage, customer slip and fall, employee injuries, or theft could explain the importance of proper insurance with adequate limits.
WHAT DOES YOUR RETAIL BUSINESS NEED?
Insurance For a Retail Store in San Diego
General Liability Insurance
General liability insurance covers basic risks, so you will get protection if someone rather than your employee gets hurt, and your business is held accountable for damages.
Business Owner Policy (BOP)
It combines general liability insurance with commercial property insurance at a lower rate than purchasing them separately. Due to its increased affordability and coverage, it is the most often recommended policy.
Professional Liability Insurance
Also known as errors and omissions, it helps you protect yourself if a client accuses you of making a mistake that causes them to lose money. It covers actual or alleged professional negligence, legal defense costs, and legal judgment.
Product Liability Insurance
This is insurance for retailers who manufacture, sell, distribute, or repair products. Without it, your retail store may have to pay out of pocket for property repairs, medical expenses, legal fees, and other expenses related to product defects.
Workers' Compensation
Protecting your employees against work-related injuries and illnesses is mandatory in most states. It will help you pay for medical expenses, lost wages, survivor benefits, permanent injuries, and employer liability.
Commercial Property
A commercial property policy is always a wise choice if you own or rent physical space. It will help you pay for damages if your business is out of order due to a covered event like a fire, vandalism, or burst water pipe.
Brands and Labels Endorsement
This property insurance policy endorsement grants the policyholder permission to remove labels and brands and/or stamp salvage on merchandise (re-mark items) damaged by the covered loss.
Commercial Auto Insurance
This type of insurance will cover medical expenses, collision repairs, and rental reimbursement if you own a business-owned vehicle. We offer protection for various vehicles and trailers common to retail businesses.
Business Interruption
In cases when a disaster strikes and you need to close your business to make repairs, this policy will cover the lost business income and operating expenses as a result of the closure.
Employment Practices Liability Coverage (EPLI)
This insurance provides coverage to employers against claims made by employees alleging discrimination, wrongful termination, harassment, and other employment-related issues.
Crime Insurance
Commercial crime package protects you from the costs associated with funds and computer transfer funds, forgery and alteration, theft of a client's property, money and securities, and employee dishonesty.
Equipment Breakdown Policy
Costs to repair and replace broken or damaged equipment, lost income, necessary expenses incurred during the restoration period, and spoiled inventory is covered with equipment breakdown insurance.
Liquor Liability Insurance
Retailers who manufacture, sell, and distribute alcohol are subject to dram shop laws. These hold businesses legally responsible for the actions of the clients who cause harm to the third party after consuming too much alcohol, so having liquor liability insurance can help you financially.
Signs Insurance
Signs insurance includes damage to signs due to vandalism, breakage during transportation, electrical surges, repair, or installation. Also, it will cover for accidental loss of indoor or outdoor signs attached to the building.
Umbrella Insurance
This is extra insurance that provides insurance over and above the existing policy limits and coverages of other policies. It provides 'excess liability insurance,' simply meaning additional insurance coverage.
GET A QUOTE FOR CANNABIS BUSINESS INSURANCE
What is Insurance for a Retail Store?
Retail business insurance protects your small business against third-party claims like customer property damage, theft, slip and falls, employee injuries, or illnesses.
Who Needs Retail Insurance in California?
As a retail shop owner, you need insurance coverage that is tailored to your line of work. Here are only a few retail businesses that need retail insurance:
Pet shops
Gift stores
Clothing boutiques
Jewelry stores
Florists
Grocery & liquor stores
Drug shops
Convenience stores
Electronics stores
Computer repair shops
And many, many more.
Tips for Buying Retailer Insurance in San Diego, CA
Follow these simple steps, and you will easily find the best retail shop insurance in California:
Assess your risks: Consider the most common and business-specific risks that your retail shop faces – whether it is a fleet of delivery vehicles that employees drive or a backroom in your computer repair shop full of equipment that can be subject to damage or theft. Also, if your business is located in an area with frequent natural disasters, it is useful to have business income coverage and commercial property insurance.
Determine the coverage needs: Based on the identified risks, you as a business owner, need to think about the retail insurance that will protect your business best. You may want to start with general liability and commercial property but consider add-on coverage or other policies as well. If you have employees, workers' comp is mandatory.
Choose a provider: Get quotes from multiple insurance providers to make the right decision for your business. When deciding on the provider, look at the policies offered and consider factors like coverage, limits, and price. It is also helpful to evaluate customer service, the process of filing a claim, and client reviews. Licensed H&M insurance agents will help you if you are unsure what policy and coverage to choose.
Reassess & renew regularly: Your business's needs may change as time passes. If you reevaluate your policies annually (at a time when the renewal is needed), you may find out that your store opens up new risks – such as expanding to another location – you may need to change some coverages and add new ones. Also, keeping the policies up to date, especially if they are required for a lease agreement, can save you a lot.
The Cost of the Store Insurance in San Diego
Every retail store is different, so how much you will end up paying depends on several factors:
Your store location
Your business premises
Kind of goods you sell or repair
Equipment and machinery
Number of staff you employ
Vehicles you own
Amount of deductible
History of claims
Annual revenue
Amount of insurance you need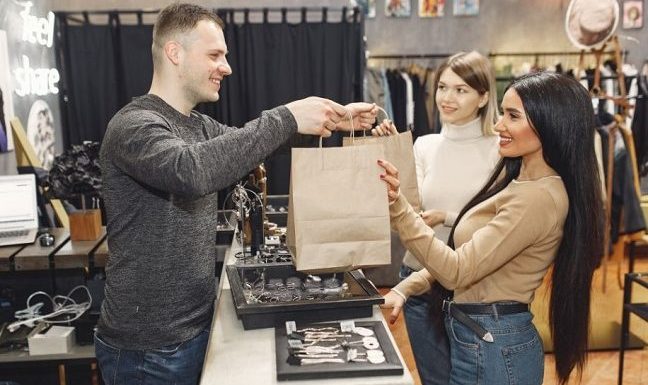 Expect smaller stores with fewer employees and goods to pay less than larger businesses with more employees, customers, and goods. The only way to find out the exact cost of your insurance is to call our licensed insurance brokers and get a free quote.
Is Business Retail Insurance Mandatory in California?
California state law does not require most coverages except workers' compensation and commercial auto. Any business with employees is required by law to have workers' comp coverage through the state's insurance fund or a private licensed insurance provider. Also, if you use commercial vehicles for business purposes, you need to have commercial auto insurance, as your personal car insurance will not cover the damages during commercial vehicle usage.
Insurance carriers have recommended that small businesses in California carry at least $500,000 – $1,000,000 in commercial liability insurance to cover third-party injuries.
WHY H&M INSURANCE AGENCY
Let Us Help You Run Your Store More Effectively
We maintain competitive pricing
Building value with our superior customer service and extensive knowledge
We offer extra care on every project
Super-fast work and quick time delivery
We find you the best deals to choose from the most reputable insurance carriers
Your questions will always have answers
We deliver actionable insights for next-level growth
Present in the San Diego and California markets for more than 50 years
Insurance for Retail Shops in San Diego Helps You Build Up Your Business
H&M insurance agency is committed to helping you start, run, and grow your retail business. In simple words, it is our business to keep you in business, so contact our certified agents at (619) 296-0005, as we have the experience and technical proficiency to help enterprises manage their risks and find suitable coverage to suit their needs. You can also email us or fill out the online form below. Do not let a small mistake ruins your hard work!
Related to Retail Store Insurance


LLC Insurance for Full Business Coverage
If you opt to shield your personal assets by establishing LLC, proper LLC insurance coverage will protect your company against potential third-party insurance claims.

Property and Casualty Insurance – Protect Your Stuff from Perils and Accidents
With property policy, any business owner will be protected against physical damages due to fire, explosion, burst pipes, theft, vandalism, and more.


Everything You Need to Know About Liability Insurance
There are different types of liability insurance, each of them guarding your business financially if you are found liable for the damages the third party sustained.