Electrical contractor insurance fuses several different policies that electricians might need to use throughout their business operations. It will protect you against third-party claims of bodily injury, property damage, or personal injury. Here at H&M Insurance Agency, we understand the risks your business is exposed to daily, so we are dedicated to finding you the best coverage to suit all your needs.
As a type of small business insurance, electrician liability insurance got you covered in case something unexpected happens – one small mistake could cost you everything you worked so hard to achieve, so having adequate insurance can save you a lot of money and trouble.
Available Insurance Plans
The main goal of H&M Insurance Agency is to find the appropriate insurance coverage to protect your business from unforeseen circumstances and financial losses. Depending on the type of electrical business, our experienced agents will analyze your situation and make recommendations tailored to your specific industry. Policies we offer include:
Business Owner's Policy (BOP)
Bundles the general liability insurance with commercial property and business interruption policy – it presents a more affordable solution than buying these 3 policies separately.
General liability insurance for electricians
It covers you from a wide range of accidents and basic risks like third-party claims of bodily injury or property damage you held responsible.
Commercial auto insurance
If you own or drive a vehicle for business purposes, having this type of insurance will help you pay for medical expenses, collision repairs, and rental reimbursement.
Workers' compensation
This policy will help you pay your employees' medical expenses and lost wages after a work-related accident.
Commercial property policy
It protects your goods, gear, inventory, and building together with any improvement and upgrades you make to your workspace, no matter if the property is owned or rented.
Errors and Omissions insurance
Also known as professional liability insurance, helps you pay for professional negligence (actual or alleged), legal defense costs, and legal judgment in case of lawsuits.
Tools and equipment coverage
It offers the protection of your gear and equipment wherever you keep it – in your trailer, vehicle, or at the job site. It will also cover any damage to borrowed equipment.
Business interruption insurance
As the name implies, it provides coverage in the case your business is damaged, or you are unable to operate. It can cover taxes, payroll, lost profits, and the cost of a temporary location.
Cyber insurance
Covers costs related to data security breaches or system hacks in which sensitive information has been stolen, and fraud has occurred.
Commercial umbrella coverage
This policy provides an extra layer of financial protection against costly lawsuits that may exceed the limits of your policy – it adds higher limits to policies that are maxed out of do not afford enough coverage.
Inland marine coverage
Helpful in case your property does not stay in a fixed location. They are exposed to additional risks (theft) while in transport. The inland marine policy will cover the costs of replacing or repairing the damaged mobile equipment.
LOOKING FOR AFFORDABLE ELECTRICIANS INSURANCE PROGRAMS?
H&M Insurance Agency:  We Provide Best Insurance for Contractor Firms
H&M Insurance Agency is a team of dedicated agents that will help you find the best and most affordable electrical contractor coverage.
We will review your needs and help you evaluate which policy makes the most sense.
We are here for all your insurance needs, so here are some reasons to consider us:
We offer the most affordable prices;
A family-owned company for more than 50 years;
We provide quotes fast and for free;
We minimize risks and reduce costs;
We offer flexible payment options;
Our partners are some of the top-rated insurance companies;
We are specialized in San Diego and California markets;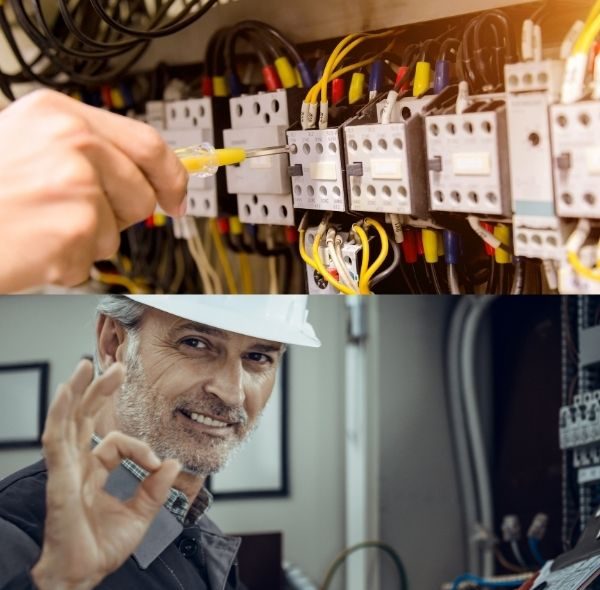 Frequently Asked Questions
Contact us for Top-trusted Insurance for Your Small Business
Our collaboration with the most prominent insurance companies like FirstComp, The Hartford, Nationwide, Next, Hiscox, and many others will provide you with a unique policy to get you covered all the time. So contact us today at (619) 296-0005, talk to our business insurance expert and inform yourself in detail.