San Diego's Contractor's Tools & Equipment Insurance Provider
Secure Your Business Equipment With Customized & Budget-Friendly Coverage
H&M is an independent insurance supplier offering specialized contractor tools policies for a variety of different industries in San Diego, California. Business equipment insurance is one of the most important coverages you should obtain if you use any type of tools or supplies on the job, as it will help pay for the repair or replacement in case your equipment gets lost, stolen, or damaged. With us, you can even insure rented or borrowed gear. Whether you own a small business in landscaping, personal care, software, automotive industry, carpentry, or visual arts, we can customize the policy based on the unique needs of the industry in which you work. This type of coverage can be combined with other commercial insurance policies to provide optimal protection for your business.
H&M Insurance Agency is a leading provider of business and personal insurance coverage in San Diego, California. With 5 decades of combined experience and collaboration with numerous insurance carriers like Safeco, Nationwide, Progressive, Markel, and First Comp, we can find the right coverage at the right price for your needs. If you are looking for affordable insurance for contractors who work in areas like roofing, plumbing, electrical, or masonry and want to cover high-value tools, reach out to us! Call us at (619) 296-0005, fill out the contact form, or visit our office at 801 Washington Street, San Diego, CA 92103. We are open from Monday to Saturday, 9:00 AM to 5:00 PM.
Why Choose H&M Insurance Agency?
Harriett & Mijailovic is San Diego's leading independent insurance agency, specializing in providing insurance coverage for a wide range of industries. Our mission is to work diligently to enable small businesses to choose and carry the most suitable insurance coverage for maximum protection and peace of mind.
At H&M independent insurance agency, we offer the following:
Read Our Clients' Testimonials To Discover Why We Are One Of Top-Rated Independent Insurance Agencies In San Diego
"Goran and Barry are the most helpful insurance agents I have ever dealt with. They are honest and up front with everything. They are actively looking for the best rates and coverage. Herriott & Mijailovic Ins is always looking out for their customers. We've worked with them for 7+ years and they have always made us feel like our company is important to them. If we request any sort of documentation, they respond in minutes and try to resolve any insurance issue we might have. If I would give them 10 stars I would!"
What Is Contractor's Equipment & Tools Insurance
As a small business owner, you are already aware how important your equipment is. You depend heavily on it as it is your source of income and you have invested a lot of money in it. Virtually any type of tools could potentially get lost or damaged, including cameras, hair dryers, drills, desktop computers, chainsaws, and sanders. The purpose of this broad-ranging insurance is to protect the valuable equipment you own and use for work by helping cover the costs for replacement or repair, should an accident, loss, or theft occur.  
While general liability insurance covers damage to someone else's property in a business environment, Contractor's equipment policy is coverage for your own assets. This way, work disruption is minimal, and you can have peace of mind knowing you will not be at a financial loss when work is halted. To maximize protection, it is always a good idea to add this policy to either a business owner's policy (BOP) or commercial property insurance.
This insurance protects movable items that travel to work sites with you. There are two conditions that have to be fulfilled:
Tools have to be under $10,000 in value
Items cannot be older than five years old
What Does Contractor's Tools & Equipment Cover?
Contractor's tools and equipment coverage typically includes protection of movable, newer items such as smaller tools like hand tools, power tools, saws, and welders, to larger equipment and higher value supplies. In case of accidents or loss, replacement or repair of such gear might cost quite a lot of money. Not to mention work disruption and stalling, with financial damages.
Contractor's policy covers a number of items and situations:
Stolen equipment – Reimbursement is provided for items like saws, hammers, and other small employee tools that have been stolen off site: a work site, a storage unit, or from your customer's property. In addition, it offers protection even if the gear gets stolen while in transport.
Employee tools and clothing – Employee tools and clothing can also be insured, and it is not limited to the company's premises only. It applies in cases they are taken off the premises.
Vandalism – If your equipment becomes subject to vandalism (e.g., graffiti), you are covered with this policy.
Damaged items – This policy can help pay for the replacement of gear that has been broken down and it can also cover the costs of fixing those that have been damaged.
Leased, loaned, rented equipment – Some providers offer policies that include coverage for contractors who do not own, but lease, loan or rent their work equipment. This policy also applies to tools used for specific projects, or those that you have to use while you wait for damaged items to be repaired. It helps cover lease and rental charges in a variety of different situations. For more information, contact our agents.
What Is Not Covered?
Although this policy is suitable for small and mid-size businesses, there are some exclusions in regard to the types of damage and types of tools.
Things and situations that are not covered involve:
Common wear and tear
Items which are older than 5 years
Intentional damage and misuse
Who Needs This Policy
Also known as 'equipment floater', this policy is a form of inland marine insurance for small tools. Since general commercial property insurance does not cover equipment which is moveable (in transit) or the one that is stored off-site, you may want to purchase Contractor's equipment policy to protect your movable assets.
This type of insurance can be advantageous for anyone who carries gear with them to worksites, whether you are an independent contractor or a business owner.
This type of coverage is necessary in almost every type of business and anyone working as a contractor at various job sites could benefit from having this protection.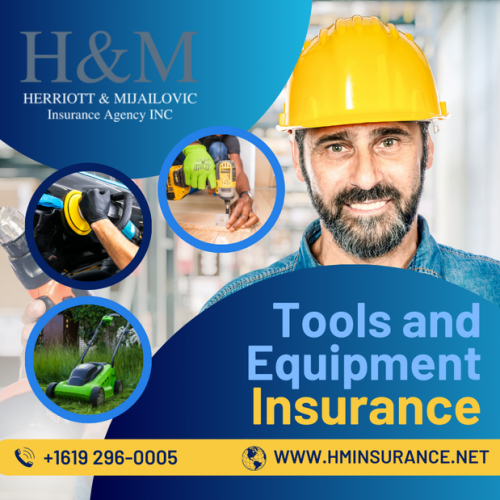 Which Industries in California Typically Purchase Contractor's Equipment Insurance?
Although it is safe to assume that every industry using any type of tools might benefit from having this insurance, it is strongly recommended for certain professions to carry this policy as a safety net. These industries are:
Construction
If you are a small business owner or a contractor in the construction industry, there are many instances where potential loss may occur. For example, your newly purchased power tool can break down, or tool storage box gets stolen from your customer's property or your truck. In the construction industry, accidents can happen anywhere, anytime, which is why you should make sure to get the appropriate insurance policy that is comprehensive enough to safeguard you from all the risks this industry carries.
Landscaping
If you are a professional working in landscaping business, such as lawn care contractor, an irrigation specialist, or a tree service contractor, it means that you are constantly on the move, changing locations, and carrying your tools with you. This, of course, poses an increased risk of damage, loss, and theft. This is why purchasing insurance is of utmost importance. It could help pay for the expenses of stolen or damaged chainsaws, pruners, power pullers, or woodchippers. It will help you transition through the accident smoothly and quickly without major consequences.
Installation contractors
If your job is in installation, you are at high risk, too, as you spend the majority of your time in other commercial or private locations as requested by your customers.  When moving around often, lots of things can unintentionally get lost and damaged or stolen. By having Contractor's tools insurance, you will be covered in various scenarios. For instance, you will be covered in case your earth auger breaks down while working in a client's yard.
What Items Qualify as Contractor's Equipment & Tools ?
We have compiled a sample list of common items that qualify for this insurance:
Hand tools: Hammers, screwdrivers, cables, tape measures, , etc.
Power tools: Saws, nail guns, electric drills, sanders, grinders, etc.
Clothing & gear: Uniforms, gloves, goggles, hard hats, work shoes, etc.
Rented Or Leased Contractor's Equipment
When it comes to rented, leased, or borrowed tools, this policy will cover them, too. There are two types of coverage it provides:
Covers the cost in cases where policyholder's items have been damaged while in possession of another person.
Helps pay for the expenses when damage has been done to a property or tools which are in the possession of the policyholder, but have been rented from a third party.
Equipment Breakdown Coverage
Equipment breakdown insurance is a type of policy that will help cover the expenses of replacing or repairing tools as a result of a covered accident. It applies to items needed to operate the business, including computers, boilers, security systems, electrical systems, or certain mechanical issues.
The coverage includes:
Covered incident repairs (time and labor)
Liability costs of property damage
Additional expenses of rush repairs or spoiled stock
Business income loss due to business interruption
Essential equipment obligatory inspections
What is Inland marine insurance and how is it different from Contractor's equipment insurance?
Inland marine insurance is a type of coverage designed for special equipment or heavy machinery which is valued at more than $10,000, such as forklifts, excavators, trucks, and bulldozers. Inland insurance is also a 'floater' policy, meaning it provides coverage in transit, too. It protects your valuable assets from risks of inclement weather, theft, or fire. In comparison, small equipment such as saws, hand tools, and drills require contractor's equipment insurance.
If you are unsure which policy to get, do not hesitate to contact our agents; we will gladly assist you.
Frequently Asked Questions
1.      How do I get Tools & Equipment Insurance coverage for small business?
With H&M, the process is fairly straightforward. You can either give us a call on or fill out the form to get in touch with us. In our initial consultation we will ask specific questions about your business in order to determine the best type of protection. We will ask you about your industry, location where you operate, the size of your company, years of operation, revenue, claims history, and similar. After the information is compiled and thoroughly analyzed, we will propose a custom-tailored quote, with a recommendation of the most suitable packages. We will make sure the price you are getting is the most affordable option among all the carriers.
2.      How Much Tools Insurance Costs?
This insurance coverage is budget-friendly, as it applies to objects which are valued under $10,000. However, in order to determine the exact amount of your monthly premium, there are several factors that have to be taken into consideration:
Risks of industry
The value of the items
How often the tools are being moved
Type of policy (named and open perils)
Method of property valuation
Coverage limits and deductibles
Feel free to give us a call and we will gladly give you a quote, based on your specific requirements.
3.      Do I have to insure all my tools?
No. You are not required to purchase the policy for all your items. You can select specific pieces of equipment that you wish to protect. If you are an employee working for someone else and using their tools, you should check with your company what kind of policy they hold. Very often, companies have policies for the equipment only while it is on the premises. Once it is taken off-site, it is no longer insured. This is the reason why purchasing a Contractor's tool insurance is a smart idea – it covers the tools wherever you go.
4.      Is Contractor's tools insurance obligatory in California?
Not always. Since the majority of contracting companies hold general liability insurance which serves to protect third parties from injury and property damage, this would be optional. On the other hand, this policy is typically compulsory when you rent or lease equipment.