Get Errors and Omissions Policy from Top-Rated Insurance Agency in San Diego
Secure Your Business Future with Unbeatable Professional Liability Insurance Rates at H&M Insurance!
If you own a business in San Diego and need business insurance, Herriott & Mijailovic, a family-owned independent insurance agency, is your ultimate destination for the best coverage options. In California, it is advised for businesses offering professional services or advice to have errors & omissions insurance. The E&O policy, also known as professional liability policy, protects you against negligence, errors, mistakes, while often covering legal and court costs and attorney fees. If you are a broker, agent, attorney, relator, architect, plumber, accountant, or consultant of any kind, reach out to us. H&M experienced staff will create an E&O insurance policy based on your unique needs and protect your business from potential risks and liabilities.
We represent a number of reputable local & national insurance providers, such as The Hartford, First American, Safeco and Markel, which gives us the freedom to find the most suitable errors & omissions insurance coverage for your business. With over 50 years of combined experience in personal and business insurance markets, we are licensed insurance agents with strong community ties. We offer one-stop shopping for a full range of insurance coverage at affordable prices with exceptional customer service and a highly personalized approach. Do not hesitate to reach us for a no-obligation review and free quote on all your insurance needs.
Read Our Customer Reviews and See Why We Outshine the Competition
Goran and Barry are the most helpful insurance agents I have ever dealt with. They are honest and upfront with everything. They are actively looking for the best rates and coverage. Herriott & Mijailovic Ins are always looking out for their customers. We've worked with them for 7+ years, and they have always made us feel like our company is important to them. If we request any sort of documentation, they respond in minutes and try to resolve any insurance issue we might have. If I would give them 10 stars, I would!!
What is Errors & Omissions Insurance?
Errors and omissions (E&O) insurance is a type of professional liability insurance. It helps protect your company from client claims that you made mistakes or errors while providing services or advice. This is a standard form of business insurance that also helps cover court or attorney costs. It can be purchased from major insurance providers, but it is advised to get it through independent insurance agents, as they can shop around to find the best coverage and the best price for your needs.
Note that home-based offices cannot get professional liability insurance coverage through homeowner's policy. They have to obtain a separate E&O coverage.
Why Choose H&M Insurance Agency?
Herriott & Mijailovic insurance agency is a respectable family-owned business from San Diego. Over the years, we have established ourselves as respectable and trustworthy insurance providers. The highlights of our business practices include:
50 years of industry experience
Boutique-style service
Custom-tailored policies
Free consultation and no-obligation review
Independent insurance agency
Partners with leading nationwide insurance carriers
California market insurance specialists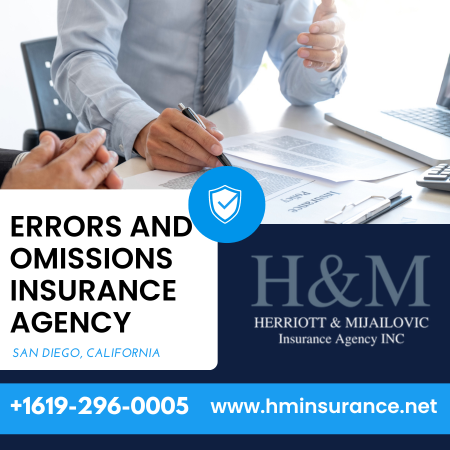 What Does E&O Insurance for Small Businesses Cover?
The exact benefits of errors and omissions policy depend on the insurance company and the policy itself. Generally speaking, E&O policy protects small business owners against claims of:
Negligence
Errors, mistakes, and omissions in services given
Violation or failure to meet specific standards of good faith
Often covers attorney fees, court and administrative costs
Judgements and settlements
In order to take full advantage of this type of insurance and cover the claims with this policy, you have to take into consideration the policy period (including the extended reporting period) as well as the retroactive date.
Who Needs E&O Insurance?
If you own a business that provides services or offers consulting and advice, you should purchase E&O (professional liability) insurance. Some of the industries and occupations needing E&O policy coverage include real estate agents, lawyers, architects, plumbers, electricians, accountants, consultants, tech firms and engineers.
Generally, anyone can get sued by clients who feel they suffered a loss by rendering your services. Luckily, you can protect yourself and your business by getting E&O insurance coverage. Even if you have a Business Owners Policy (BOP) coverage, you should still purchase error & omissions insurance, as BOP does not cover your business against professional liability claims.
Is errors & omissions insurance the same as liability insurance?
E&O policy is the same as professional liability insurance, but different from general liability insurance. Errors & omission policy covers mostly negligence or mistakes while performing services, while general liability insurance policy covers claims from bodily injuries or damage caused by company's products.
What is not covered by E&O insurance?
For a complete list of what your E&O insurance does not cover, read the policy in detail. Typically, major exclusions of your professional liability insurance policy include:
Employment Issues, such as improper employment, employer's liability claims, or worker's compensation claims.
Bodily Injury or Property Damage are not covered by E&O policy. If you want to protect your business against third-party injuries and damage claims you should purchase a General liability policy.
Company vehicle incidents are not covered either. To insure your business fleet, you should buy Commercial auto insurance.
Illegal and criminal acts, including dishonesty, fraudulent and intentional deeds of wrongdoings and certain liabilities, are not covered.
Personally Identifiable Information (PII) or Personal Data – Errors & omissions policy does not cover your company's failure to protect personal data under your control.
Patents and Trade Secrets, such as claims alleging infringement or patent thefts
How much does E&O insurance premium cost?
The price of errors & omissions insurance depends on various factors. Some factors determining the price include type of industry, number of employees, exact location, claims history, and coverage limits. In general, high-risk professions pay higher policies. Likewise, larger companies can expect to pay more, as they have bigger chances of making a mistake, due to the number of employees.
Get Professional Liability Policy from Top Trusted Insurance Agents in San Diego
H&M is a boutique-style independent agency from San Diego representing major trustworthy insurance carriers like Progressive, Nationwide, and Hartford. We strive to find ideal errors & omissions insurance coverage for San Diego businesses offering services and advice among a variety of existing choices on the market. Our main focus is on you and your business needs. With 50 years of experience, we can confidently guide you and help you choose the best E&O policy, which will protect you against various claims and liabilities. Do not put your trade or profession at risk, call us to get a free quote and find the best policy to protect your business. (619) 296-0005.