Commercial Truck Insurance - Purpose, Costs and FAQs
Finding proper vehicle insurance can be like crossing over a minefield, particularly when it comes to commercial truck insurance. Here you'll find everything you must know to avoid the many pitfalls and ensure you walk away with the best trucking insurance deal.


Your fleet's protection is at the top of your priorities if you're a business owner who owns commercial trucks. If you don't get a truck insurance policy, you might be putting your business at risk of a financial catastrophe. This form of coverage is different than standard personal auto insurance.
What Is Commercial Truck Insurance?
It's a list of specific auto insurance policies tailored to meet the needs of trucking businesses. Basic policies cover the trucks in the case of an accident. Comprehensive and collision coverage cover most damages from a wide range of dangers.
Specialized commercial truck insurance options for fleet involve coverage for specific liability issues and additional risks. Besides basic and specialized coverage, you can add non-trucking options to the policy. Choose non-trucking liability coverage to protect against incidents when a vehicle isn't transporting cargo.
Who Needs This Coverage?
From one truck to a wide fleet, basic insurance for commercial trucks is required by law and has a variety of options to personalize your protection.
Unlike auto insurance, semi-truck insurance is designed specifically for trucks and cargo. The FMCSA (Federal Motor Carrier Safety Administration) requires any commercial operation of a truck to hold a commercial truck insurance policy.
Trucking insurance is required for:
Truck drivers and independent owner-operators;
Commercial transportation companies;
Any firm with trucks, drivers, or transportation-related activity.
What Does It Cover?
Like many car insurance policies, trucking insurance involves several forms of coverage, each of which is specifically crafted to protect your business and your personal assets from disaster. It may include:
Commercial truck liability insurance – Covers your liability risks in the event that you or one of your drivers causes an accident. It includes bodily injury liability that covers the costs of injuries/medical expenses for the injured party, and property damage liability that covers the costs of property damage in an accident. It'll also cover the costs of legal defense, whether or not your company is found to be at fault in an accident;
Physical damage coverage – Covers the costs of damage to your truck from an accident or other incident. It comes with both collision coverage to pay for damage from a crash along with comprehensive coverage to pay for damage from vandalism, theft, and other than collision causes;
Uninsured/underinsurance motorists coverage – Covers the costs of damages and injuries if you or one of the employees is in an accident where another driver is at fault, but that driver doesn't have adequate coverage to pay for property damage and injuries;
Truck cargo coverage – Covers damage or theft of items your truck is pulling.

It Doesn't Cover?
Truckers' insurance policies don't cover everything. Below are additional endorsements that cover these possible situations:
Driver injuries – The basic insurance policies are about protecting other people (paying for damage/medical bills and safeguarding you in a lawsuit). If you would like to protect your worker's injuries, those claims would be part of a workers compensation insurance coverage;
Damage of the trucks – General liability covers the cost of damage to others, not yourself. If you want to insure your trucks – buy physical damage insurance. It isn't necessary by law to insure your property, but it's highly advisable;
Lost product due to damaged refrigeration – If a refrigerated truck breaks-down or the reefer breaks down, you'll need specific insurance to cover the replacement and the loss of cargo;
Loss of cargo – The federal government may require you to carry a minimum of $5,000 in cargo coverage, but truck drivers often carry cargo worth much more than that, so you may need to buy more coverage;
Loss of income after an accident – If your truck has participated in an accident and you need some time to get your businesses back up and working, this insurance won't cover the loss of income. You would want to consider business income insurance or business interruption insurance to cover those losses.
Types of Commercial Truck Insurance
The category of commercial trucks has several types of vehicles, such as semi-trucks, dump trucks, garbage trucks, car haulers/auto trailers, tow trucks, flatbed trucks, tank trucks, and box trucks.
Each of these trucks plays a different role. The amount you or your employees drive commercial vehicles, the miles they travel each year, and what these vehicles haul will all factor into the type and extent of coverage you need to protect your business investments.
Here are some other types of coverage you can obtain via commercial truck insurance:
Motor truck cargo coverage – If you run a freight business in which your trucks transport valuable products, it's highly recommended that you have motor truck cargo coverage;
Physical damage coverage – This form of coverage covers collisions with other drivers, a collision with an object, and non-collision accidents which result in damage;
General liability coverage – It provides coverage for medical payments, bodily and personal injury, property damage, and other kinds of liability. With this coverage, you're protected against the most common accidents that happen during business operations;
Excess liability coverage – Most businesses acquire excess liability coverage if their industry is generally high risk. This form of policy covers you against catastrophic damages and accidents;
Workers' compensation coverage – With this coverage, you can cover your employees' medical costs and lost wages if they're injured or become sick at work.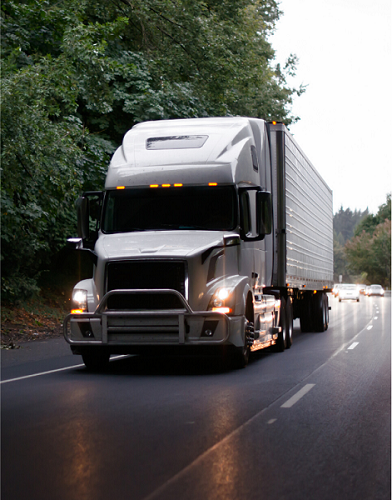 How Much Does Truck Insurance Cost?
The cost of commercial trucking insurance varies since it depends on many factors, like your company's driving history, the number of trucks you intend to ensure, your safety record, and where your business operates.
Generally speaking, the average cost for an owner-operator with authority is from $8,000 to $14,000 per year. Still, it can get as high as $20,000 per year, resting on the driver's experience. If you have smaller trucks that only deliver locally, or if you own other types of trucks, such as construction vehicles or dump trucks, the cost of the coverage will be different.
FAQs
How to get a truck insurance quote
Commercial truck insurance quote is a professional estimate of how much you can pay in monthly premiums and deductibles with each agency. Insurance firms offer quotes for free online and through the phone. The perfect method to be sure you're receiving the best offer possible is by getting more than a few quotes, therefore try to get several.
Who is covered with a commercial truck insurance policy?
The people covered under this policy can vary and are specified in the policy. Any employees that drive your trucks (besides yourself) are known as "permissive users" and must be listed on your policy.
Does commercial truck insurance cover personal use?
Coverage for the personal use of commercial truck insurance relies on whether the driver is operating under your authority or you're leased to a motor carrier. If you're working under their authority, they'll be covered for all personal use under their policy. In case they're leased to a motor carrier, they're standardly covered for business use only, but they could acquire non-trucking liability insurance to cover their personal use.
Does auto insurance cover business use?
In most situations, the business use of your vehicle isn't covered by the auto insurance policy and can lead to denied claims. Anyway, where you're most likely risk losing coverage is when you're transporting passengers or products, which insurers define as livery. If your job demands traveling from point A to point B to visit clients, attend conferences, or perform other things, your personal auto insurance is likely to provide coverage.
How can I lower my insurance premiums?
You can acquire a lower premium by maintaining coverage without any gaps in insurance. You can lower your premium with discounts, too. Bundling your products is another technique to lower your semi- truck insurance premiums.
What is bobtail truck insurance?
It's a coverage that protects the truck when it's being driven without a trailer for a business purpose, like a trucker returning to its depot after dropping off a trailer.
H&M – Your Best Commercial Truck Insurance Option in San Diego
Since our beginnings, H&M has been dedicated to providing high quality and competitive insurance for our customers throughout the State of California. We're a trustworthy San Diego business insurance agency created with more than 50 years of experience in the insurance field. Our company offers the best coverage, prices, claims expertise, and customer service in the niche.
We specialize in insuring owner-operators, motor carriers and private carriers with the best coverage and prices on the market to their trucks, trailers, trucks, tractors, box trucks, tow trucks, or dump trucks.
Call (619) 296-0005 for expert advice or quote online.