Commercial Insurance for Truck in San Diego & California
Get Trucking Insurance Quote at H&M Insurance Agency
As a business owner with a fleet of commercial trucks, ensuring their protection should be at the forefront of your priorities. Don't take the risk of exposing your business to the financial consequences of a potential accident. That's where we come in. Our expertise in insuring commercial vehicles, including trailers, fleet vehicles, tractors, box trucks, tow trucks, and dump trucks, can provide your business with the peace of mind it deserves. Don't wait until it's too late to secure your assets. Call us today at (619) 296-0005 for a personalized insurance plan tailored to your business needs. Our expert team will guide you through the process and provide you with the best commercial truck insurance in California. Alternatively, you can get a quick and easy quote online right now.
Secure Your Fleet's Future with California's Premier Commercial Truck Insurance Agency
When it comes to securing the protection of your commercial truck fleet, make an informed decision by considering the following factors:
50 years of expertise in the trucking insurance industry
A family-owned business dedicated to serving your unique needs
Access to the most competitive truck insurance rates in California
Strong partnerships with top-rated commercial vehicle insurance providers
Customized coverage and pricing options designed to manage your specific risks effectively
Don't take chances with your commercial truck fleet. Choose an insurance agency that offers experience, expertise, and personalized attention. Start today by requesting a fast, easy, free, no-obligation quote—partner with a trusted and reliable commercial truck insurance provider to secure the future of your business.
As a client of H&M Insurance for over ten years, their handling of all of my insurance needs has been exceptional. I would highly recommend their agency and their services for all of your insurance. – Bob Rothstein, San Diego
What Is Commercial Truck Insurance?
It's a list of specific vehicle insurance policies tailored to meet the needs of trucking businesses. Basic policies cover the trucks in the case of an accident. Comprehensive and collision coverage cover most damages from a wide range of dangers.
Specialized commercial truck insurance options for fleet involve coverage for specific liability issues and additional risks. Besides basic and specialized coverage, you can add non-trucking options to the policy. Choose non-trucking liability coverage to protect against incidents when a vehicle isn't transporting cargo.
Who Needs It?
From one truck to a wide fleet, basic insurance for commercial trucks is required by law and has various options to personalize your protection.
Unlike auto insurance, semi-truck insurance is designed specifically for trucks and cargo. The FMCSA (Federal Motor Carrier Safety Administration) requires any commercial operation of a truck to hold a commercial truck insurance policy.
Trucking insurance is required for the following:
Truck drivers and independent owner-operators;
Commercial transportation companies;
Any firm with trucks, drivers, or transportation-related activity.
What Does Commercial Truck Insurance Cover?
Like many car insurance policies, trucking insurance involves several forms of coverage, each specifically crafted to protect your business and personal assets from disaster. It may include:
Commercial truck liability insurance covers your liability risks if you or one of your drivers causes an accident. It includes bodily injury liability which covers the costs of injuries/medical expenses for the injured party, and property damage liability, which covers the costs of property damage in an accident. It'll also cover the costs of legal defense, whether or not your company is found to be at fault in an accident;
Physical damage coverage – Covers the costs of damage to your truck from an accident or other incident. It comes with both collision coverage to pay for damage from a crash along with comprehensive coverage to pay for damage from vandalism, theft, and other than collision causes;
Uninsured/underinsurance motorists coverage – Covers the costs of damages and injuries if you or one of the employees is in an accident where another driver is at fault, but that driver doesn't have adequate coverage to pay for property damage and injuries;
Truck cargo coverage – Covers damage or theft of items your truck is pulling.
We Provide the Following Trucking Insurance
The category of commercial trucks has several types of vehicles, such as semi-trucks, dump trucks, garbage trucks, car haulers/auto trailers, tow trucks, flatbed trucks, tank trucks, and box trucks.
Each of these trucks plays a different role. The amount you or your employees drive commercial vehicles, the miles they travel each year, and what these vehicles haul will all factor into the type and extent of coverage you need to protect your business investments.
Here are some other types of coverage you can obtain via commercial truck insurance:
Motor truck cargo coverage – If you run a freight business in which your trucks transport valuable products, it's highly recommended that you have motor truck cargo coverage;
Physical damage coverage – This form of coverage covers collisions with other drivers, a collision with an object, and non-collision accidents which result in damage;
General liability covers medical payments, bodily and personal injury, property damage, and other kinds of liability. With this coverage, you're protected against the most common accidents that happen during business operations;
Excess liability coverage – Most businesses acquire extra liability coverage if their industry is generally high risk. This form of policy covers you against catastrophic damages and accidents;
Workers' compensation coverage – With this coverage, you can cover your employees' medical costs and lost wages if they're injured or become sick at work.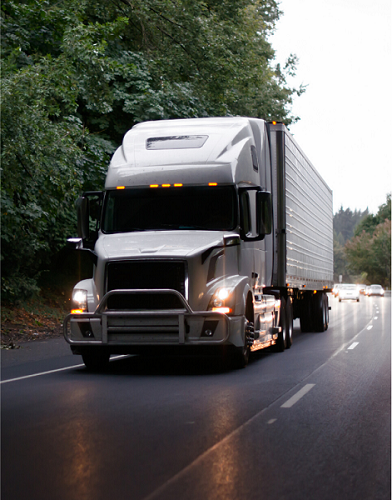 How Much Does Truck Insurance Cost in California?
The cost of commercial trucking insurance varies. It depends on many factors, such as the company's driving history, the number of trucks you intend to ensure, your safety record, and where your business operates.
Generally, the average cost for an owner-operator with authority is from $8,000 to $14,000 per year. Still, it can get as high as $20,000 annually, resting on the driver's experience. If you have smaller trucks that only deliver locally, or if you own other types of trucks, such as construction vehicles or dump trucks, the cost of the coverage will be different. To get an accurate estimate, contact our agents or call us at (619) 296-0005.
Related Commercial Vehicle Coverage by H&M Insurance Agency

COMMERCIAL AUTO INSURANCE
This type of coverage is designed for any company that uses vehicles for business purposes. It includes bodily injury liability coverage, medical payments, no-fault or personal injury coverage, uninsured and underinsured motorist coverage, and many more. More Info.

FLEET AUTO INSURANCE
Fleet insurance policy covers all your vehicles (at least two vehicles) with the most appropriate insurance plan that meets your specific needs and requirements. It provides liability insurance coverage for all of your business's vehicles in one policy. More Info.

TOW TRUCK INSURANCE
Protect your towing business with the best commercial tow truck coverage in California. Call H&M insurance agency in San Diego for consultations and a quote. More Info.
Frequently Asked Questions
Who is covered with a commercial truck insurance policy?
The people covered under this policy can vary and are specified in the policy. Any employees that drive your trucks (besides yourself) are known as "permissive users" and must be listed on your policy.
Does commercial truck insurance cover personal use?
Coverage for the personal use of commercial truck insurance relies on whether the driver is operating under your authority or you're leased to a motor carrier. If you're working under their authority, they'll be covered for all personal use under their policy. In case they're leased to a motor carrier, they're standardly covered for business use only, but they could acquire non-trucking liability insurance to cover their personal use.
Does auto insurance cover business use?
In most situations, the business use of your vehicle isn't covered by the auto insurance policy and can lead to denied claims. Anyway, where you're most likely risk losing coverage is when you're transporting passengers or products, which insurers define as livery. If your job demands traveling from point A to point B to visit clients, attend conferences, or perform other things, your personal auto insurance is likely to provide coverage.
How can I lower my insurance premiums?
You can acquire a lower premium by maintaining coverage without any gaps in insurance. You can lower your premium with discounts, too. Bundling your products is another technique to lower your semi- truck insurance premiums.
What is bobtail truck insurance?
It's a coverage that protects the truck when it's being driven without a trailer for a business purpose, like a trucker returning to its depot after dropping off a trailer.
Protect your business and invest in the right insurance for commercial trucks.
Get coverage today.