Suppose you have already put in an effort to become one of the most profitable HVAC contractors in San Diego. In that case, the next step is to ensure you are covered in case of an accident. No matter how skillful you or your employees are, mistakes happen. For example, a lawsuit over damage to a home or an injury from lifting an air conditioner can lead to massive financial loss. H&M Insurance Company strives to find the best HVAC contractors insurance in San Diego to protect your business from common risks such as property damage, injuries, and lawsuits from dissatisfied customers.
HVAC (Heating, Ventilation, and Air Conditioning) contractors perform various works on both commercial and residential projects. As a type of San Diego contractor insurance, HVAC insurance San Diego is crucial because every risk can potentially be expensive for your company. With H&M Insurance Agency, you do not have to worry about that.
#1 HVAC Contractor Insurance San Diego
Every HVAC business is unique, so having the right HVAC business insurance from the right insurance company can save you a lot of cash. Suppose you plan on business insurance at a lower price. In that case, it is always recommended to talk with H&M agents who will give you the best advice on which HVAC insurance policy to purchase. This cost is always worth the price if a catastrophe happens in the future. Our company offers several coverage options:
Commercial General Liability Insurance
This type of policy safeguards you from third-party property damage and bodily injury by someone injured at the business. This insurance will prevent you pay the damages you are responsible for out of your pocket.
Commercial Property Insurance
This insurance protects the physical part of your business – a structure and contents inside. It will pay the cost of the building repair and the replacement cost for the damaged equipment.
Errors and Omissions
Also known as professional liability insurance, it will protect your HVAC business against any negligent claims that your clients may make. If your business is accused of professional misconduct, the policy will cover all legal expenses, court fees, attorneys, and settlements.
Workers' Compensation
In case employees get injured on the job; this policy will cover medical expenses and lost wages during recovery. It is mandatory in almost every state for HVAC businesses.
Commercial Auto Insurance
If you own a company vehicle(s), commercial auto insurance is always advisable to have. It will cover repairs to cars damaged by weather, vandalism, theft, or accidents. Commercial auto coverage is mandatory in California and protects your business if any worker is at fault in an accident.
Inland Marine Insurance
As a type of property insurance, it covers portable equipment while it is in transit – between the time you drive to the client business or home and when you are making repairs.
Business Owner's Policy
It usually combines general liability insurance, business property insurance, and business interruption coverage. It is great because it can be custom-made to fit industry-specific business needs.
Tools and Equipment Insurance
If your tools and equipment are damaged, stolen, or lost, this coverage will pay for repairs or replacements. Get your equipment covered all the time – in your vehicle, at the job site, or stored in a trailer.
LOOKING FOR THE BEST HVAC INSURANCE PROGRAMS IN SAN DIEGO?
H&M Insurance: Why Chose Us as the Leading HVAC Insurance Company in San Diego?
Our agency is dedicated to providing our clients with the highest quality insurance plans available, combined with the lowest possible rates. Working with H&M Insurance Company will have many benefits for your company, including protection from your or employees' mistakes, helps you get bigger projects, and enables you to gain reputation.
Take into account the following facts when choosing our insurance agency:
We have been present at the San Diego and California Market for more than 50 years;
We represent some of the most renowned insurance companies;
We are a family-owned company;
We will successfully satisfy all insurance needs of your HVAC business;
We strive to find the most affordable insurance policy for you;
Requesting our quotes is FREE, easy, and quick;
We offer custom-tailored HVAC insurance policies in San Diego;
We maximize savings and provide flexible payment options;
We offer the best insurance rates in San Diego and California.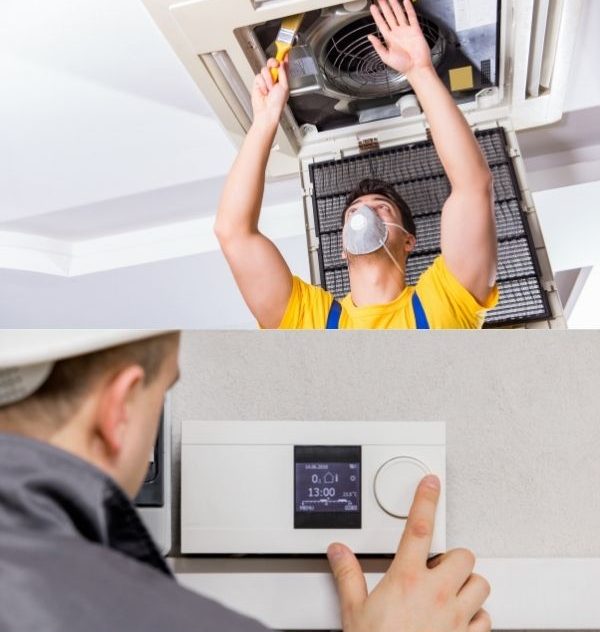 Insurance for HVAC in San Diego: FAQs
The Best HVAC Insurance San Diego: H&M Insurance Agency
H&M insurance agency will satisfy all your HVAC business needs at the most affordable prices. Our team of professionals with expertise in all types of San Diego contractor insurance will guide you through the process of selecting the right policy from the right company. We are looking forward to working with you, so do not hesitate to call us at (619) 296-0005 for a FREE quote.
RELATED TO HVAC INSURANCE SAN DIEGO

Commercial Truck Insurance – Purpose, Costs, and FAQs
Different from standard auto insurance, this insurance policy can protect your business from financial catastrophe. It may include commercial truck liability insurance, physical damage coverage, uninsured/underinsurance motorists coverage, and truck cargo coverage.

Umbrella Insurance – An Extra Coverage from Excessive Costs
Umbrella policy usually covers injuries, property damage, lawsuits, and personal liability situations as an additional layer of protection for your HVAC business. If your expenses surpass the liability policy limits, then it is convenient to have an umbrella policy.

5 Best Small Business Insurance Policies You Should Consider
Whether you need a commercial general liability policy, commercial auto insurance, commercial crime insurance, commercial umbrella insurance, or business owner's policy – do not let any inconvenience disturb your small HVAC business performance, be properly covered.