Inland Marine Insurance in San Diego
Custom-Tailored Coverages. Affordable Prices. Flexible Payment Options.
Herriott & Mijailovic is one of the leading providers of business insurance in San Diego. We are an independent agency offering a comprehensive scope of insurance coverages, including inland marine insurance. If you are in an industry that tends to work off-site, travel with your tools and equipment often, or transport third-party property, you should secure yourself with inland marine insurance policy. It serves to protect professionals such as general contractors, plumbers, carpenters, IT consultants, photographers, engineers, food caterers, and many others. This coverage can be added to other policies, such as business owner's policy or commercial property policy to ensure all-inclusive protection you strive for.
At H&M Insurance agency, you will experience first-class personalized service and exceptional attention to detail, which can only be found at independent agencies like ours. We proudly offer products from renowned insurance providers, like The Hartford, Progressive, First American, First Comp and Markel, at affordable prices. Our team has a rich background of over 50 years in both personal and business insurance, which guarantees that you will get the most suitable policy for your needs. Call us at (619) 296-0005, or fill out the contact form for a free quote and get your company safeguarded today!
What Is Inland Marine Insurance?
Inland marine insurance, also known as 'property in transit insurance' or 'floater policy,' is a type of insurance that protects business property (tools, equipment, materials, products and goods) that is being transported over land (via trucks, cars, trains) or when it is stored at an off-site location. Property in transit insurance' is usually purchased along with commercial property insurance, since the latter does not cover items that are transported or used outside the main company location.
Inland marine insurance is not to be confused with marine insurance, which offers coverage only for the property being transported over water.
What Does Inland Marine Insurance Cover?
Inland marine insurance coverage is designed to protect a broad range of distinctive business property. It helps pay for the losses incurred by the damage or the loss of these types of property:
Business property being transported between different locations, such as large equipment, machinery, or debris removal mechanisms.
Off-site property that is stored or kept at third-party location. For instance, vending machines stored at a third-party warehouse or building materials kept at job sites.
Property kept in a continuously moving vehicle, like food trucks, food vendors, or repair vehicles.
Vital infrastructure property, including bridges, television/radio towers, and piers.
Periodic shipping of valuable property, such as art pieces or valuable electronic gear.
What Is Not Covered?
Inland marine insurance generally does not include coverage for the following:
Stationary (non-movable) business property at your main location
Commercial (business) vehicles
Earthquakes and flood damages
Business property shipped by water or air
Damages occurred prior to transportation/shipping
Additional Marine Inland Coverages
There are also additional coverages that can be added to the basic inland marine policy to increase the coverage and to fit all the requirements of your business. Our insurance agents will best evaluate and advise you of additional insurance you should purchase.
Additional policies may include:
Bailee's coverage
Builder's risk
Contractors advantage
Electronic data processing (EDP)
Exhibition and fine arts
Equipment that is leased or rented
Medical equipment
Motor truck cargo
Warehouse legal liability
Who Needs Inland Marine Insurance Coverage?
This type of coverage is specialized insurance, although it is not intended for every type of business. Many businesses will have sufficient protection with coverages like Business Owenrs Policy (BOP) and Commercial Property Insurance Policy. However, lots of companies need additional protection to cover all possible scenarios and protect their business from financial losses.
It is strongly recommended to purchase this special policy if your business falls under any of these categories:
working or storing assets offsite
transportation of cargo, materials, products or goods by land
shipping high-value goods
commercial vehicle carrying property continuously in movement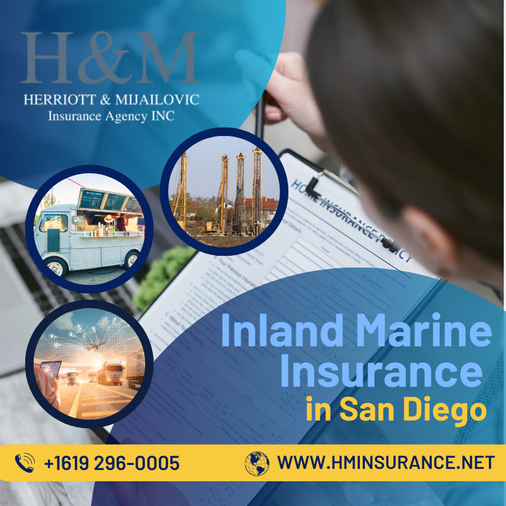 Industries That Need Marine Land Insurance
Companies in the following industries are most likely to obtain a customizable inland marine policy:
Construction & contracting industries
'Floater policy' will safeguard the property under construction and tools and equipment that are being transported, stored off-site, or located at the job site. It is essential for businesses like commercial builders, electricians, carpenters, masonry contractors, roofers, snow and ice removal, and other special trade contractors to have this protection. It will shield their business from loss and damage to their mobile machinery and equipment, whether owned, borrowed, leased, or rented.
For complete protection, consider adding additional coverages, such as:
builder's risk
installation
rental/sales of equipment
contractor's equipment
cranes & riggers
renewable energy course of construction
Renewable energy (technology)
Businesses involved in technology, particularly in the renewable energy industry (research, development, engineering, construction, procurement), strongly need this form of policy. It covers the costs caused by damage and loss to renewable energy equipment, communication towers, installed property, or electronic equipment.
Supplementary coverages for renewable energy industry include:
Solar
Battery energy storage system (BESS)
Electric vehicle (EV) charging
Transportation & logistics
Small businesses that handle shipping or storing of cargo (goods and products) are among the top policyholders of inland marine insurance.
You can also opt for extra coverages, such as:
Motor truck cargo
Personal property
Warehouse liability
Shipper's interest
Consulting
This policy helps consulting professionals cover the losses of business property.  It is a key coverage for businesses like education consultants, event planners, IT consultants, engineers, and telecom consultants.
Special coverages involve:
Party and special event rental equipment
Rental/lease of entertainment articles
Electronics
Computer, video, radio, or sound equipment
Food and beverage industry
If you are in the food and beverage industry, you will certainly want to acquire a 'floater policy'. It will help you recover faster from losses and damages to goods, materials, and equipment being transported off site. It is highly recommended for businesses such as restaurants, bakery shops, food trucks, food vendors, fast food restaurants, and delis.
In addition to primary policy, the coverage can be further custom-tailored for the manufacturers of:
Bakery goods
Craft beer and wine
Candy and confectionery
Dairy products
Frozen and processed foods
Photography and videography
If you are a drone photographer or a videographer, who brings their camera to events or filming locations, you most likely want to purchase inland marine insurance. It serves to protect your valuable equipment that you carry with you off-site, such as tripods, lenses, monitors, laptops, drones, backdrops, etc. This policy helps settle the expenses of your equipment's loss or damage due to theft, storm, fire, work accident or vandalism.
You can further customize your insurance by adding additional coverages:
Electronic gear
Photography equipment
Leased and rented equipment
How Much Does It Cost?
The price insurance depends on various aspects, including type of industry, property value, claims history, under what conditions materials are transported, and coverage limits. Typically, high-value equipment need more coverage, which means the policy will be higher priced, too.
To get an idea of how much the premium will cost, it is best to contact us directly for a no obligation quote.
Why Choose Herriott & Mijailovic for Your Business Insurance Needs?
Herriott & Mijailovic is a San Diego-based insurance agency, specializing in the local California market. As an independent agency, we work with major US insurance providers like CIG , Safeco, Travelers, and others to provide increased flexibility and highly customized policy options.
Some of the benefits of working with us include:
50+ years of relevant experience
Family-owned, independent insurance agency
Free initial consultation and no-obligation quotes
Transparent, affordable pricing
Fruitful collaboration with A+ carriers
Superb customer relations
I Trust Herriott & Mijailovic for All My Insurance Needs' – Discover Why.
Goran and Barry are the most helpful insurance agents I have ever dealt with. They are honest and up front with everything. They are actively looking for the best rates and coverage. Herriott & Mijailovic Ins is always looking out for their customers. We've worked with them for 7+ years and they have always made us feel like our company is important to them. If we request any sort of documentation, they respond in minutes and try to resolve any insurance issue we might have. If I would give them 10 stars I would!
Call Today To Get A NO-Obligation Quote On Inland Marine Insurance In San Diego
Are you ready to work with an independent agent who knows the value of customized policies? Our extensive experience and strong industry connections empower us to go above and beyond so you can achieve more and stress less. We are committed to providing you with the optimal inland marine insurance coverage for businesses located in the greater San Diego area. Avoid risks, and get protected against a multitude of liabilities by purchasing an ideal coverage. Call us at (619) 296-0005 to obtain the best policy for your needs.