With a San Diego roofing insurance policy, you will have insurance that will cover any incident on your job site. Your insurance will cover any financial damages your roofing contractor firm suffers from property or damage claims made against you. H&M insurance company offers various small business insurance policies tailored to the specific needs that will help protect you, your employees, and your entire business.
We can also ensure you that whatever your company's unique insurance needs are, we have the right solutions for you. We will customize any insurance you obtain from us to fit all your requirements. You will have the finest possible barrier against financial claims against you and peace of mind with a personalized San Diego roofing contractors insurance policy from the H&M insurance agency.
COVERAGE OPTIONS
#1 Insurance for Roofers in San Diego: Policies We Offer
Contact H&M insurance today if you need insurance for a roofing company in San Diego. Our dedicated agents will be available to answer any queries you may have and to meet your needs. You should be able to get a competitive quote within minutes, so we offer:
General Liability Insurance for Roofers
It covers situations where a third-party (client or bystander) is harmed in a variety of ways, including property damage, bodily injury, and advertising injury. It will pay for legal fees and settlements that would otherwise put your company out of business.
Business Owner Policy (BOP)
Liability, business interruption, and property insurance are all bundled together in a convenient and more inexpensive BOP. It is less expensive than buying each of the insurance separately.
Workers' Compensation
Workers' comp insurance is required in almost every state. It safeguards you and your employees from workplace accidents, litigation, and settlements. It can cover the employee's medical expenses as well as a portion of their wages if they are unable to return to work straight away.
Errors & Omissions
This policy, often known as professional liability insurance, protects you from client negligence claims. Personal harm, negligence, copyright infringement, legal defenses regardless of blame, and many others are also covered. It includes losses incurred as a result of things you did or should have done.
Commercial Vehicle Insurance
This policy insures commercial vehicles used for your roofing business, such as automobiles, vans, box trucks, pickup trucks, and trailers. You will save money on repairs, injuries, and other expenses.
Commercial Property Insurance
If you own a building, commercial property insurance may assist in safeguarding your company equipment, inventory, and premises. This insurance covers your equipment while it is on the premises, as well as the building itself if you own real estate where you store it.
Tools & Equipment
Coverage for tools and equipment ensures that your equipment is safe and secure, whether in your van, a trailer, or on the job site. If you do not own or lease the property but often transport pricey equipment to a job site, tools and equipment insurance can safeguard it from loss or theft.
Inland Marine Insurance
Inland Marine insurance is designed to protect moveable or transportable property. It is frequently used to cover property that requires more protection than a standard BOP can give and should be part of your comprehensive plan whether you are operating off-site, shipping or transporting items, or need coverage for your equipment.
Business Interruption Insurance
This insurance protects a business's loss of income due to a disaster. It will cover your ongoing company expenditures while you are closed and the loss of money you would have received during that period that might occur from a disaster-related business closure.
Umbrella Coverage
This is an add-on policy that you may apply to an existing insurance policy to increase the coverage limit. If your current policy's coverage is insufficient for the level of risk you are taking, you may want to consider adding an umbrella policy.
Surety Bonds
Although surety bonds are not literally insurance policies, they do give job guarantees. They should be considered as part of a comprehensive roofing insurance package.
LOOKING FOR A CHEAP ROOFING INSURANCE IN SAN DIEGO, CA?
WHY CHOOSE H&M INSURANCE COMPANY
Finding Roofing Insurance Company in San Diego is Not Hard
More than 50 years in the insurance business
Specialized in San Diego and California markets
A family-owned company
We strive to reduce risks and minimize costs for you
High-quality coverage you can rely on
Our prices are very affordable, with many discounts available
We shop around for you, so you do not have to
We are partners with the most reputable insurance companies
Outstanding reputation
Our customer service is unparalleled
We take your feedback seriously.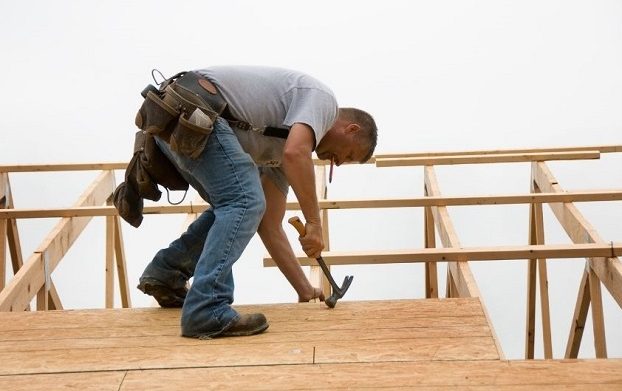 Roofing Liability Insurance FAQs
Roofing insurance protects a range of work-related risks that come with owning and operating a roofing company. General liability insurance is the most typical type of coverage for roofers. It may help reduce your company's out-of-pocket expenses in the event of an accident.
Roofing insurance costs in California, but in other states as well, depends on the several different factors, which can include:
The size of your company
The number of the employees
Record of claims
The location of your business
Roofing services offered
Your safety procedures
Your revenue
Roofing contractor's insurance should be carried out by all contractors participating in a roofing job. Your clients may or may not require you to carry certain insurance policies, but regardless of their requirements, roofing contractors should have adequate insurance coverage for the many sorts of jobs they may be working on.
Need Roofing Contractors Liability Insurance in San Diego? Let Us Help You!
Apart from protecting your roofing business, it can also make your business more attractive to customers, as most of them prefer roofing contractors who are properly insured. At H&M insurance company, you can find policies that will prevent financial losses and shield your roofing business. Get advice from our licensed insurance agents and have peace of mind knowing that your business is safe. Call us at (619) 296-0005.
RELATED TO ROOFERS INSURANCE SAN DIEGO

The Things about Workers Compensation Insurance You Should've Known Before
If your roofers company has employees, workers comp is obligatory in almost every state. Get familiar with this type of mandatory coverage.

Everything You Need to Know About Liability Insurance
Liability insurance can be a business saver when it comes to the accidents for which your company is found liable. This article will walk you through liability insurance basics and why it is crucial to have it.

Umbrella Insurance – An Extra Coverage from Excessive Costs
The costs that exceed your liability insurance limit put you at risk of losing everything you have worked so hard for. Consider an umbrella insurance policy to protect yourself, and it will save you money and give you peace of mind.