Plumbers liability insurance is good to have in the case of unexpected peril. Unfortunately, life is uncertain, and mistakes happen. If you find yourself receiving the liability claim, the most trusted plumbing liability insurance in San Diego can save your small business from extensive financial damages. Accidental property damage, third-party claims, or bodily injury are some of the most common risks you can encounter while running your plumbing business. Fortunately, here at H&M Insurance Agency, we have the right solution to meet all your specific San Diego plumbing insurance needs.
Plumbers and pipefitters insurance San Diego is the type of small business insurance that is perfectly tailored for the needs of the plumbers' businesses. Your team and your finances should be protected, so you can have peace of mind and focus on growing your business.
#1 San Diego Plumbers Insurance Coverage
As an investment that will keep you protected from various kinds of unforeseen events, plumbers' business insurance offers adequate protection against a wide variety of risks associated with the plumbing business. H&M Insurance Agency understands all the responsibilities plumbers encounter, so we are dedicated to finding the right coverage options to suit all your needs. We offer:
General Liability Insurance
Protects your business from third-party claims. It covers bodily injury, property damage, and advertising injury. In addition, it will help you cover financially in case you are found culpable for the accident.
Business Owner's Policy (BOP)
This is an extension of the general liability policy. It combines general liability coverage with the business's personal property. It is usually more affordable than buying those coverages separately.
Workers' Compensation Insurance
This is the only mandatory insurance policy required by law if you have employees. It will cover the medical bills and lost wages for your employee after a work-related accident.
Tools and Equipment Coverage
It will protect your gear, equipment, and tools wherever you keep them – in your trailer, vehicle, or at the job site. In addition, it will cover for damaged equipment, stolen tools, and borrowed gear.
Commercial Property Insurance
It protects your physical assets from explosions, fire, storms, theft, burst pipes, and vandalism. Flood and earthquakes are not typically covered, but you can always add these perils to the policy. It covers your building (owned or rented) and everything in it and just outside of it.
Commercial Auto Insurance
It covers your business from unexpected expenses if you or your employees are involved in a car accident. It will handle replacements and repairs fast and can include underinsured motorists, rental reimbursement if your car is in the shop, towing and property damage, as well as medical bills.
Umbrella Insurance
Provides extra liability coverage beyond the limits of the existing policy. It does not cost much, so having it will protect you from claims that will easily wipe out any business financially.
Errors and Omissions
It is designed to protect employers and employees against clients' claims of negligence or inadequate work. Suppose a client believes you made a mistake or oversight or did not meet the standards. In that case, this policy will cover the legal fees of the lawsuit, even if that claim proves to be groundless.
Inland Marine Coverage
This policy covers materials, products, and equipment when transported over land or stored temporarily at a job site or warehouse. The loss may occur due to weather, transit, theft, and less experienced machine operators.
Data Breach Insurance
It will protect your plumbing company from financial losses resulting from data loss, hack, or theft of company documents. You are always at risk if you store customers' contact info or process their credit cards.
Surety Bonds
It ensures that plumbers will adhere to all applicable laws and professional standards, protecting the customers and the authority that issued the plumbing license. The authority will set the bond amount, but you will pay only the portion of it – usually from 1% – 5 % of the surety bond amount.
LOOKING FOR PLUMBERS INSURANCE IN SAN DIEGO?
Why Choose H&M Insurance Company?
Our team of skilled professionals is dedicated to finding you the right coverage option for your small business. They will help you get the most affordable plumbers liability insurance quotes with the best coverage for your specific business.
We offer flexible payment options;
Our company is a family-owned for more than 50 years;
You will get a fully customized quote;
Our quotes are no-obligation, fast, easy, and free;
Our partners are some of the top-rated insurance companies;
We are experts in San Diego and California markets;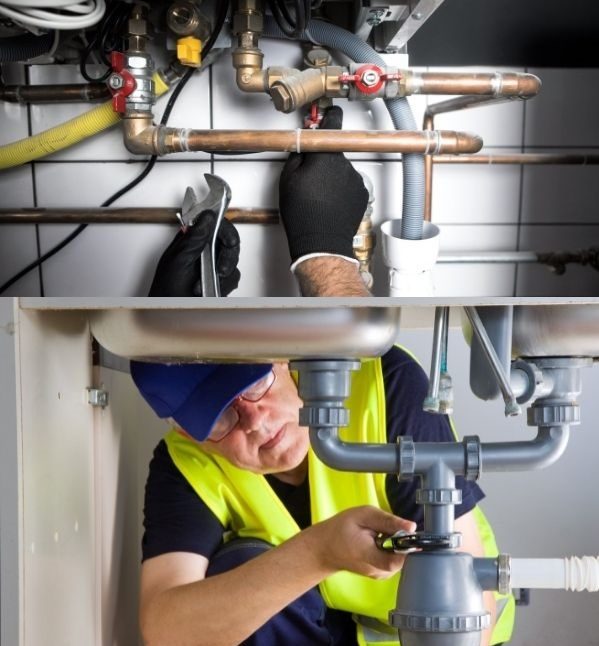 Plumbing Company Insurance San Diego Expert: Call (619) 296-0005
A qualified business insurance expert at H&M Insurance Agency will conduct a thorough analysis to help you what kind of policy do your plumbing business need. Unfortunately, things do not always go exactly to plan, so having the best liability insurance for plumbers San Diego has to offer can significantly decrease the chance of financial disaster. Call us today at (619) 296-0005 or fill out our online form.
RELATED TO PLUMBERS INSURANCE

Commercial Truck Insurance: Purpose, Costs and FAQs
Whether you have a whole fleet of vehicles, or only one truck, having the right commercial truck insurance can save you a lot when an accident happens. Here you can find everything you need to know about truck coverage.

LLC Insurance for Full Business Coverage
Protect your business and personal assets and cover the costs of the lawsuit, even if you are not found liable with LLC insurance. You will be financially covered in the case of bodily injury, a client data breach, a missed deadline, and many more.

Umbrella Insurance – An Extra Coverage from Excessive Costs
The additional layer of coverage is always helpful in the world where you can get sued for almost everything. Umbrella insurance will cover the expenses that exceed the limits of your liability policy.