Carpenters Insurance San Diego,CA
#1 Insurance for Carpenters in California
H&M Insurance Agency offers a variety of commercial insurance options, including the policies for carpenters in San Diego and tradesmen that repair or remodel structures made of wood. Our carpentry business insurance focuses on general liability insurance, commercial auto, workers compensation, tools and equipment insurance, and commercial property insurance. With more than 50 years of experience in the insurance field, we can understand our clients' needs and risks carried by their industry. Therefore, we can create custom-tailored policies that meet your needs and protect you from potential financial loss due to unforeseen perils and accidents.
Contact us at (619) 296-0005 and request carpenter insurance quote at the best San Diego commercial insurance provider. We're looking forward to hearing from you soon.
Carpenter insurance offers protection for various types of craftsmanship businesses, such as framing, cabinet making, and flooring contractors. A carpenter policy includes reimbursement for financial liabilities due to injuries and property damage, and it's critical for all the tradesmen that do this kind of work. Although it might seem entirely safe, carpenter business carries a lot of risks that can result in high costs, a tradesman will have to pay out of their pocket. To prevent such damage and loss of revenue, carpenters are recommended to purchase carpenters insurance, which will protect them from unforeseen costs of medical bills, property damage, and court fees.
However, not all carpenters will need the same amount of coverage. Although both of them belong to the same category (carpenters), deck builder and flooring contractor carry different risk levels, which is why their insurance rates and types of coverages may vary.
This page will reveal to you more about the core concepts of commercial insurance for carpenters in California, including its price, coverages, and industries that should consider it.
Why is Carpenters Insurance Important?
Not all the carpenters do the same work. Some of them may perform interior work only, exterior work only, or even both. Exterior work usually involves framing work, such as building structural support for new construction. Interior work, on the other hand, includes remodeling, repair, finishing, or refinishing, and it can be either rough or finish.
Understanding the risks that carpenter's work brings will make you realize how insurance can help. Whether you're a solo practice or you employ a crew, or if you run a carpenter business, it's essential to keep yourself, your employees, and your clients safe from potential accidents that could cost a fortune.
Owning the right carpenters insurance will make you look more reliable and credible in the eyes of your clients, and it will take your business to the next level. Besides, knowing that you're protected from potential perils will bring absolute peace of mind.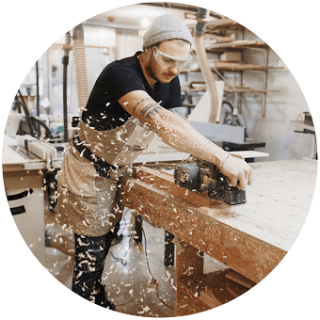 Who Needs Insurance for Carpenters in San Diego, CA?
All the businesses that construct, install or repair structures made of wood or similar materials should have a carpenter's insurance policy that would protect them from substantial financial loss due to unforeseen events and perils. Such businesses may include:
Apprentice carpenters
Cabinet installers
Deck builders
Flooring installers
Framers
Lead carpenters
Remodelers
Roofers
Rough framing carpenters
Siding installers
Supervisor and site managers
Trim and finish carpenters.
What Does Carpenter Insurance in San Diego, California Cover?
Medical bills, repairing or replacing property, and legal fees due to accidents are commonly included in carpenter liability insurance, which is critical for covering the costs of third-party injuries and property damage, as well as court expenses and settlements.
California carpenter liability insurance will kick in if you or one of your employees damages a client's property or is held liable for a client's injuries. Besides, it will cover all the legal fees in case your client decides to sue you.
Some of the coverages, such as carpenter liability insurance, are required, while some others can be added if you want to enhance your business safety. It's essential to understand your risks and purchase coverages that will help you mitigate them in the best possible way. Other coverages worth considering are:
Commercial Property Insurance
It's critical to protect your clients' belongings, but what about your property? Commercial property insurance will make sure your building, office space, and warehouse, as well as their contents, are protected from adverse weather conditions and vandalism.
Worker's Compensation
If you hire a crew of carpenters, purchasing a worker's comp is a must. It will protect your employees from the costs of work-related injuries or illnesses that may become chronic. Apart from medical bills, your employees will get compensation for lost wages, rehabilitation, and many other things.
Business Auto Insurance
If you use a car or truck for operating your business, it's critical to consider commercial auto insurance. It will cover medical bills and damaged equipment inside your vehicle in case you're involved in a car accident while driving to a job site or running work-related errands.
Business Owner's Policy (BOP)
The best way to save money on carpenter's insurance policy is by purchasing a BOP. It is bundled insurance that often includes business interruption insurance, property insurance, and liability coverage in one plan.
Cyber Insurance
To protect your employees' and clients' data from potential breaches or cyberattacks, make sure you buy cyber liability insurance that will safeguard your carpenters company against such events.
Commercial Umbrella Insurance
To enhance your business safety and make sure you can pay the costs that exceed your policy's limit, consider commercial umbrella insurance. It kicks in when the damage costs more than your current policy can cover, enhancing your business safety and saving your money.
Business Interruption Insurance
A part of property insurance that reimburses you for lost income and helps you pay for ongoing expenses when you're unable to operate your business due to a covered loss (fire, for example) is business interruption insurance. It's essential for ensuring your business existence even if it can't be done during some time.
Inland Marine Insurance
Another form of property insurance that can help you save your equipment is inland marine. It covers your tools, laptop, and other supplies while in transit, and protects it from theft, loss, or damage.
Builders Risk Insurance
To make sure your tools and equipment are safe from damage, theft, or loss while at a worksite, you'll need builders risk insurance. It also provides coverage for structures while under construction.
CUSTOM CARPENTERS INSURANCE PLANS
WORKER'S COMPENSATION
COMMERCIAL AUTO INSURANCE
BUSINESS PROPERTY INSURANCE
LIABILITY PROTECTION
BUSINESS INTERRUPTION INSURANCE
TOOLS & EQUIPMENT INSURANCE
CONTRACTORS' E&O
AND MUCH MORE
What are the Most Carpentry Risks and Exposures?
To help you understand the risks carpentry business usually carries, we have prepared a list of the situations that may happen at the workplace. For instance:
Property exposures: Carpenters can damage their own equipment by causing a fire, for example. A fire can be caused by the flammability of wood, paint, varnishes, or wood dust and do severe damage to a carpenter's workshop or warehouse where they store equipment. How to protect from the fire? Read A Complete Guide to Fire Insurance and become adequately prepared for such situations.
Premises liability risks: A carpenter can do significant damages to neighboring businesses or homes, especially due to fire, smoke, or vandalism primarily aimed at the carpenter's shop or office. Apart from property damage, bodily injuries to the public or employees if other contractors may occur, as well as environmental hazards due to the disposal of waste materials.
Completed operations liability risks: Such risks arise once the work's been completed. Although the job's done, the exposures may remain – for example, several months after a roofing contractor finishes work at their clients' home, melting snow enters through the roof and damages a clients' new, high-end computer. To make sure you're protected from such a scenario, you should consider completed operations insurance, vital for preventing unplanned costs.
Worker's comp risks: Those may include injuries due to sharp objects (saws), back injures, and sprains that result from lifting heavy items, poisoning due to chemical exposure, and long-term illnesses caused by exposure to noise or other factors. To mitigate those risks, make sure you provide your employees with adequate training and supervision.
Inland marine risks: You never know what can happen to your tools, valuable papers, and equipment while in transit. They can be damaged due to weather, vandalism, or similar factors, which can cost your company a fortune. Your material is neither 100% safe while left at a jobsite, where it can be stolen or damaged by a third-party.
Crime exposures: Crime-related exposures often come as a result of employee dishonesty, which is why it's critical to do a background check on criminal history before you decide to hire a particular person.
Commercial crime policy will help you reduce the risk of employee dishonesty since it provides coverage for employee theft of money, securities, or property.
Business auto risks: Exposures associated with commercial vehicles are high unless the carpenter transports lumber and pre-made items. If you hire employees to do that kind of work, make sure you conduct random drug and alcohol testing to make sure drivers are reliable and trustworthy. If you transport oversized items, make sure your vehicles are adequately marked and well-maintained.
Is Carpenter Ant Damage Covered By Homeowners Insurance?
Carpenter ant damage is an inconvenience many homeowners commonly face. Even though they're small, carpenter ants can cause a lot of troubles, especially if the infestation goes unnoticed. They usually hollow out the wood to nest inside it, causing severe structural damage to homes.
Unfortunately, most homeowners' policies don't provide coverage for problems due to animal damage. According to many insurance carriers, such issues are related to home maintenance, which is considered the responsibility of the homeowner.
The best way to prevent carpenter ant damage is to hire pest infestation experts to check your home regularly, ensure that attics and crawl spaces are properly ventilated, and caulk any possible entryways. By controlling pest infestation issues, considerable damage can be avoided.
Interested in learning about homeowner's insurance? Read The Ultimate Guide to Homeowners' Insurance: Coverages, Exclusions, and Cost.
How Much is Carpenters Insurance in California?
The average carpenter liability insurance cost is about $47-$59 a month, and it often offers $1,000,000-$2,000,000 limits. However, the exact price will depend on factors such as location, payroll, business size, sales, experience in the industry, as well as the amount of coverage you want to add to your policy.
Besides, your carpenter insurance agency will have in mind the risks that your business carries and use them to determine the price of your policy – the higher the risk, the higher the cost.