Fire Insurance Coverage – Definition, Policies, and Cost
Many things can cause fire, which is one of the most common accidents that occur in California. It can damage everything, from replaceable belongings to the entire household, which is why it is vital to protect yourself with fire insurance.

Hot summer days, a lit cigarette, faulty wiring, or explosion of gas can ruin something you've been building for your entire life. The costs of repairment or replacement are mostly too high, and paying out of your pocket can severely affect your budget. However, the damage caused by smoke or fire is covered by a
fire insurance policy
, which means that your insurance company will pay all the costs. Let's learn more about it.
What is Fire Insurance?
Most
homeowners insurance policies
include
fire coverage
, which helps you repair or replace your home in case it's damaged by fire. A fire policy is valid when your property is damaged due to, for example, electrical issues caused by faulty wiring, no matter if it happened inside your home or it came from your neighbor's garden.
What Does Fire Insurance Cover?
As a part of a standard homeowners policy, fire insurance offers you protection under these four separate coverages:
1. Dwelling Fire Insurance
Dwelling insurance provides coverage in case your home was destroyed or partially damaged in a fire. Besides it gives you financial help to repair or rebuild the house, it also pays to remove rubble or tear down the remaining parts – overall, it helps you get back to normal.
2. Coverage for Other Structures
If a fire damages or destroys other constructions such as a detached garage, barn, tool shed, or any other object that isn't attached to your home, the insurance will pay for the costs of repairment, rebuild, and removal of rubble.
3. Coverage for Your Belongings
Items like furniture, electronics, clothes, or any other objects you own are covered with insurance in case they get damaged by a fire. Still, if you own some valuable stuff such as fur, paintings, or jewelry, you should check with your carrier and see whether you need an additional policy.
4. Loss of Use
In case your house becomes uninhabitable due to a fire, your insurance policy will pay for your additional living expenses, including hotel, renting costs, boarding for your pets, and food.
5. Wildfires
Most home policies include the coverage for the harms caused by wildfires. However, if you live in a high-risk zone, you should check with your insurance agency and ask them whether you need additional homeowners insurance in fire prone areas.
What Doesn't Fire Insurance Cover?
When it comes to fire insurance, there are some limitations you should be aware of. Before we jump into the actual situations where fire insurance doesn't kick in, you should know that
this policy never covers a fire caused on purpose!
1. War or Nuclear Damage
Most policies don't include the damage caused by war, nuclear peril, or other similar accidents.
There are specific policies that are aimed at covering the damages due to acts of war, such as invasion, insurrection, rebellion, and hijacking.
2. Fire Damage to a Vacant Home
A home that's been empty at the time of the fire for more than 30 consecutive days won't be covered with fire insurance policies. Still, you can purchase a separate
vacant homeowners insurance policy
if you want to protect a home no one lives in.
3. Fire Damage to Your Vehicle
Homeowners insurance won't cover for your car or any other vehicle damaged by a fire. Such costs are paid by
comprehensive auto insurance
, which is a special part of your standard
car policy
.
4. Fire Damage at Work
Standard fire insurance included in a homeowners policy won't cover for fire damage that happens at work. Such a peril is typically covered by
BOP (business owner's policy)
, and if you're a business owner, you should consider it. This policy will cover fire damage to your
business building, attached and detached structures, office equipment, and inventory.
Does Renters Insurance Cover Fire?
One of the most common questions regarding fire is whether it's included in a
renters policy
. The answer is yes, and it consists of the following coverages:
1. Personal Property Coverage
If a tenant's personal stuff is damaged by fire, all the costs of repairment or replacement will be compensated. That includes furniture, electronics, and other stuff that's listed on your
personal property coverage
policy.
2. Liability Coverage
In case you burn someone or accidentally destroy their stuff with fire,
renters liability insurance
will pay for medical expenses and compensate for the costs of repairment or replacement of their property. Besides, if you accidentally set your building on fire by leaving a candle unattended, throwing away a lit match, or even during cooking,
fire and casualty insurance will pay some of your liability
for the fire, and also some legal costs that are up to your liability level.
3. Fire Caused by Another Factor
Some perils, including floods and earthquakes, are excluded from most policies, but if they cause a fire that damages your home and belongings, your renter's insurance should kick in. Renters policy also includes a
loss of use
and
mandatory evacuations
mostly caused by wildfire, while
fire damage to your car, nuclear explosions, and intentional injuries
are not covered.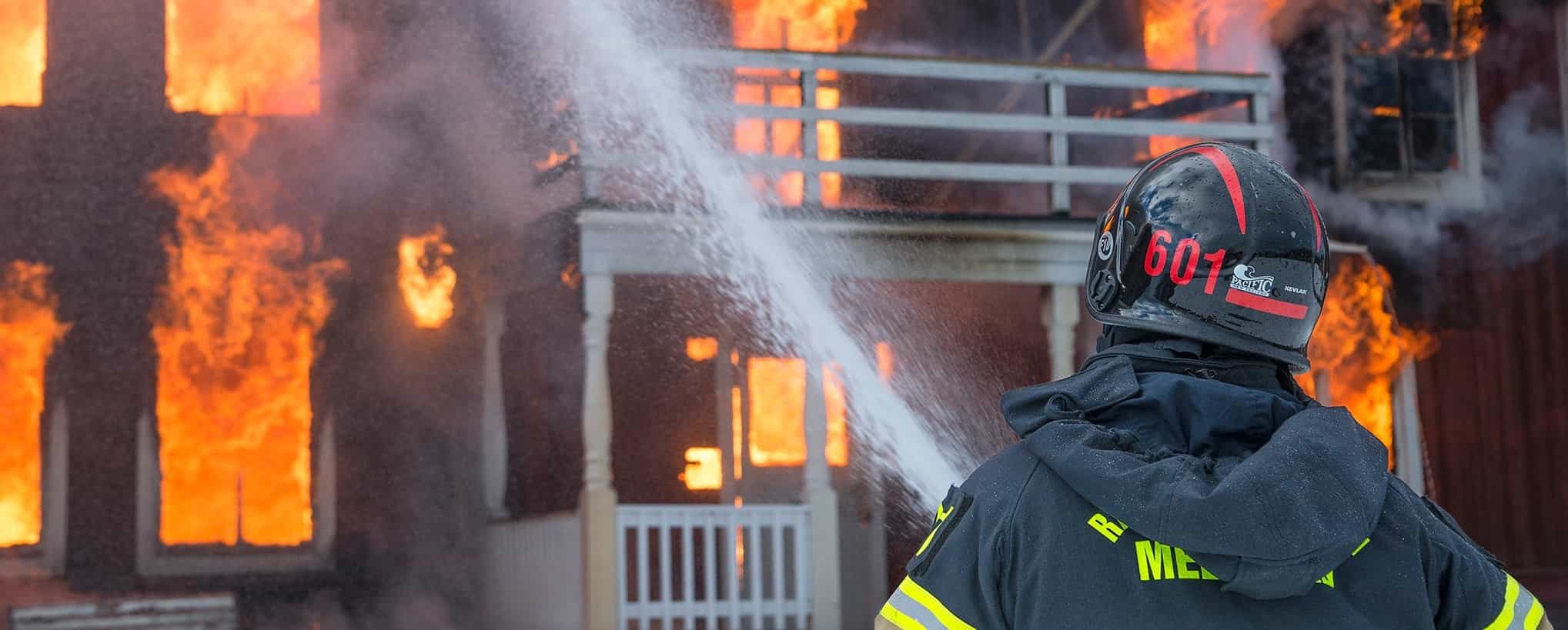 What is the Fire Insurance Cost?
Since fire is covered under the homeowners policy, factors like area, ZIP code, the materials you used to build your home, and other things are something that will impact your total insurance price. As long as you pay for your homeowner's insurance (about $1.100 a year), you are protected from the excessive costs caused by fire, but, as mentioned before, if you live in a fire-prone area, you may need to pay more for additional coverage. One of the states that's considered the riskiest is California, and since a series of wildfires destroyed thousands of homes last year, many insurance companies stopped renewing policies for people who lived in fire-prone zones. In the state of California fire insurance that's mostly used is called a FAIR plan. They cover up to $1.5 million for a structure and its contents in high-risk zones. Still, even that amount of money may not be sufficient for a full replacement of a home and property. You should know that the FAIR Plan provides insurance as a last resort, and it should be used only when you can't obtain coverage through any other insurer.
How Does California FAIR Plan Work?
The California FAIR (Fair Access to Insurance Requirements) is an insurance association that covers high-risk homeowners and renters who are unable to obtain coverage from another insurer. It's much more limited in coverage than other insurance policies offered on the market, and it includes a few perils, such as fire and smoke. You can request a quote directly, which is a bit longer process than hiring a broker at no additional cost. If you want to apply for FAIR, you need to be a property owner in the state and meet particular building requirements. As for proof that you have been rejected by a certain number of insurers, it's not requested for applying to FAIR, but it's recommended to search for as many private insurers as you can before qualifying for this one. California FAIR Plan coverage offers home, renters, and condo insurance policies, and in case of fire, it provides actual cash coverage to your house and property, and you can also choose whether you want a replacement cost coverage.
The perils that are covered by the California FAIR Plan are:
Fire
Lightning
Internal explosion
Smoke
Vandalism (optional)
Windstorms, hail, aircraft, volcanic eruptions (optional)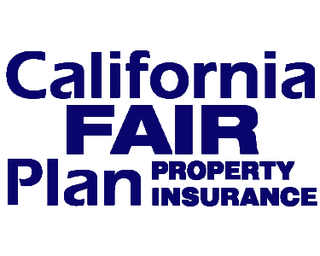 You can add some of the following coverages to your policy as well:
Other structures: If you own some structures that are detached from your home, such as a shed, separate garage, or something else, you can add extra coverage for them.
Fair rental value coverage: In case your house is damaged to the point that becomes uninhabitable, this plan will cover the loss.
Building code upgrade coverage: If you own an older home that's been severely damaged, you may need to upgrade its electrical and plumbing system to comply with California requirements – that said, this coverage will provide up to 10% of your dwelling insurance to cover any extra repairs required to get your home up to code.
Earthquake insurance: You can purchase a separate earthquake policy provided by the California Earthquake Authority (CEA) and protect yourself from costs due to quakes.
Debris removal: If a fire causes debris brought to your property, this coverage will pay for its removal.
Inflation guard: This plan will increase your dwelling insurance limit, as well as building code upgrade coverage if there are certain changes in the cost of construction due to inflation as estimated by a third party. Still, this means that your premium will be increased as well.
Plants, shrubs, and trees: With this plan, you'll get up to $250 of coverage per plant, shrub, or tree.
However,
FAIR Plan comes with specific exclusions
, and it won't protect you under the following circumstances:
Empty or unoccupied homes: If more than half of your home's area has been vacant or unoccupied for at least one year, a FAIR Plan will neither renew nor give you insurance. In case your home's been currently empty (for less than a year), it will need to be in good condition so that you can obtain the policy.
Houses with existing damage that's not being repaired: If your house has been damaged before the peril, it won't be eligible for the coverage unless you can submit a contract that outlines the work that will be done to repair the existing damage, together with an estimated date of completion.
Properties used for illegal actions: If your property's used for unlawful purposes (growing marijuana, for example), you won't be qualified for a FAIR plan.
To get a FAIR, you can either apply directly for it or hire a registered broker on their website (CFPNet). It's recommended to go for a broker since you'll get the quote immediately, and they can help you with all the paperwork regarding the fire insurance. Once everything is done, you have 60 days to pay the premium to the California FAIR Plan, and your policy will become effective when the payment has been received. As mentioned, homeowners can get a maximum of $1.5 million of FAIR coverage, and the plans offered by the Plan range
from $100 to $10.000.
If you go for a higher deductible, you will end up paying less for the premium, but be careful – if you are not sure that you can pay out of your pocket in the event of an emergency, go for a lower amount that won't affect your finances.
Expert Tips on How to Prevent Fire and Lower the Policy Price
You are also one of the factors that can lower the policy price and risk of the fire. The National Fire Protection Association suggest you do the following:
Place smoke alarms: You should place smoke alarms on every level of your home, inside each bedroom, and outside of each sleeping area. That way, you can prevent accidents and protect yourself from severe injuries and costs.
Test the smoke detectors: It's essential to check smoke detectors once a month and make sure that everything works fine.
Implement a sprinkler system: Sprinkle systems will react as soon as the heat from the fire rises in the air, making sure the fire doesn't spread.
And here comes the most important tip you should consider – In case of an actual fire, make sure you and your beloved ones leave home immediately. As for the possessions, your
insurance agency
will take care of them.
H&M Insurance Agency Takes Care of Your Property
Owning a home is neither easy nor cheap job, and it's understandable that you want to protect it from fire, smoke, and any other peril in every possible way. With unique and comprehensive
H&M homeowners policy
, you can be sure that your home and belongings are covered in case of natural disasters or mischievous third-party actions. No matter if you own a home or you are still paying the mortgage financing, contact us at
(619) 296-0005
and get to know more about the best
fire insurance San Diego
can offer.