Top-Rated Cyber Liability Insurance Provider in San Diego
Act Now: Insure Your Business From Cyber Attacks And Data Breach Damages
A lot of small businesses from San Diego are digitally attacked for the information they collect or store, and potential threats of hackers and breaches are on the rise. The smartest solution would be to purchase cyber liability insurance policy and protect your business from unauthorized access to your computer systems. The Herriott & Mijailovic insurance agency can protect you against potential devastating threats of data breach attacks by providing a cyber liability insurance policy custom-tailored to your business' specific needs. We can help you protect your employees, customers, and sensitive data you keep on electronic devices. The policy can be customized according to specific industries such as hospitality, logistics, amusement, construction, retail, and automotive.
H&M insurance agency is a family-owned business with more than 50 years of experience committed to finding the best coverage for your needs. We pride ourselves on our partnership with a number of major insurance providers like Nationwide, Hartford, Next and Progressive. Whether you own a small, a mid-size, or a large company in San Diego, give us a call at (619)296-0005 or fill out online form to see how we can protect and safeguard your business.
What Is a Cyber Attack and How Can It Affect My Business?
Nowadays, every business storing information online is at risk of cybercrime. Cyber-attacks are aimed at stealing, exposing, altering or destroying valuable, sensitive information that a company keeps online. According to statistics, cyber-attacks and data breaches are on the rise within small and mid-size businesses not only in California but also globally. These companies typically do not have enough resources to fight off all the threats, which is why they are at a higher risk and often become victims of this crime.
What Is Cyber Liability Insurance and Why Do I Need It?
These days, every company has some sort of digital presence. No matter which business you run, cyber liability insurance is a must as it defends you from hackers, identity theft, and other online crime attempts that can substantially damage their business. If you store data on electronic devices, it is highly recommended to purchase this policy, as it helps pay for expenses of recovery and legal claims resulting from data breach.
The Herriott & Mijailovic agency is highly experienced in identifying the best insurance package suitable for your company's needs. After evaluating your business model and the potential risks of security breaches, we will advise you on how we can customize your cyberattack insurance policy to fit your exact needs.
Two Types of Cyber Insurance
H&M insurance agency offers two different types of cyber liability insurance coverage: first-party coverage and third-party coverage.
First-party Liability Insurance
First-party cyber liability insurance serves to protect the company from its own cyber risks. This applies particularly to businesses that manage PII data (personally identifiable information) for clients. First-party liability insurance helps cover the expenses caused by data breaches. Hence, it is a great policy solution for businesses collecting sensitive personal data like email addresses or credit card information. Furthermore, it can help cover response costs, business interruption losses, and extortion demands.
Third-party Liability Insurance
Third-party liability insurance is perfect for companies that are in charge of client's cybersecurity. This type of policy is used to protect you from client's lawsuits, and it helps cover expenses for legal costs, damages from judgments, and settlements.
What Is Covered By Cyber Liability Insurance?
Cyber insurance typically covers liabilities for a data breach of sensitive client data, such as social security numbers, driver's license numbers, account numbers, credit card numbers, and health records. This is a comprehensive and strong policy that may cover the following areas related to cyber-crime:
Liability coverage (media, network security, extortion)
Reputation damage control and expenses
Data recovery
Pays expenses for forensic specialists
Paper and electronic data exposing
Legal costs and fines
Loss mitigation services
Business interruption (covers the income you lose resulting from cyber incidents)
PCI (Payment Card Industry Data Security Standard)
The exact coverage extent will depend on your digital activity habits. For instance, a hair salon or a flower shop need different coverage from a law firm. H&M agency has ample experience finding the most appropriate insurance packages to easily mitigate cyber risks and damages.
What Is Not Covered by Cyber Liability Insurance?
Although cyber insurance and data breach are highly comprehensive policies, there are certain claims that are not covered. Based on your preferences and business needs, you might want to add the following protections:
Does My Business Need Cyber Liability Insurance?
Every small and medium-sized business can be targeted by hackers for a number of different sensitive information. Hackers can try to steal or alter passwords, or important data such as PII (personally identifiable information) or PHI (protected health information). With this in mind, it is essential to defend your business with cyber insurance, which will help you get back on your feet quickly after the attack.
Cyber liability insurance is good for all businesses that:
Collect, store, and manage confidential client information such as PII (Personally identifiable information) and PHI (Protected health information)
Finance, health, or education industry
Use computers, tablets, smartphones
Accepting credit card and online forms of payment
Which Industries Are at High Risk of Cyber Attacks?
While any industry sector can be a victim of a data breach, there are several industries that are especially susceptible to cyber-attacks:
retailer (pet stores, grocery stores, e-commerce retailers, bridal shops, florists, etc.)
IT sector (consultants, app developers, network security companies, telecom companies, etc.)
healthcare (dental labs, medical offices, acupuncturists, chiropractors, opticians, physical therapists)
finance (financial advisors, accountants, bookkeepers, auditors)
real estate (mortgage brokers, title agents, property managers, appraisers, commercial landlords)
What Are The Advantages Of Getting Cyber Liability Insurance?
Technology is advancing rapidly and so are cyber-attacks targeting businesses. For this reason, every company should purchase this policy and enjoy all the benefits:
cyber risks mitigation
limited liability
peace of mind
minimized business disruption
legal support
intellectual property & reputation protection
faster recovery after the attack
personalized and comprehensive coverage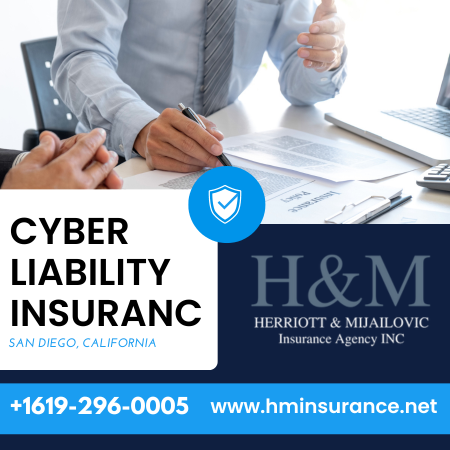 What Is Data Breach Insurance: How Is It Different From Cyber Liability?
Although these two policies seem quite similar at first glance, they both offer different types of protection.
Data breach insurance promotes better response following the data breach incident. It protects you from liabilities caused by PII or PHI theft, whether it's caused by hackers or employee negligence. It can help you cover the costs of:
informing the affected individuals (clients, employees, or patients)
hiring a PR company
credit monitoring services for the victims
In addition, you can further customize the policy by adding prior acts policy which covers claims prior to policy's effective date.
What Is The Cost Of Cyber Insurance?
When determining the price of business insurance policies, a lot of factors come into play, meaning that each business is unique and will have a specific premium based on the following information:
Number of clients, patients, or customers
Revenue amount
The type of sensitive data stored
History of claims
Why Choose Us to Provide Cyber Insurance Coverage?
Over the years, we have established ourselves as a respectable and trustworthy agency fostering productive partnerships with the nation's major insurance providers.
Below you can find some of the highlights of our company:
More than 50 years of experience
Family-owned agency
Superb customer service
Affordable premiums
Partnering with renowned insurance companies
Customized cyber liability policies
Efficient claim handling
Specialized in California insurance market
Read Our Customer Reviews
"Goran and Barry are the most helpful insurance agents I have ever dealt with. They are honest and upfront with everything. They are actively looking for the best rates and coverage. Herriott & Mijailovic Ins is always looking out for their customers. We've worked with them for 7+ years and they have always made us feel like our company is important to them. If we request any sort of documentation, they respond in minutes and try to resolve any insurance issue we might have. If I could give them 10 stars, I would!!"
Find Out How To Benefit From A Cyber Liability Insurance, Call (619)296-0005
Cyberattacks are not just a minor nuisance. They can, in fact, put you out of business if you are not well prepared and don't recuperate fast enough. That is why it is critical for businesses to protect themselves against cyber-attacks and data breaches by purchasing a cyber liability insurance policy. Herriott & Mijailovic, one of the premier business insurance providers in San Diego, can help you select the best insurance protection plan and ensure you have peace of mind and security. We are your trusted partner with over 50 years of California market experience. Call us at (619)296-0005 and speak with a licensed insurance agent about how we can safeguard you from online attacks.