Motels, hotels, and other hospitality establishments face many challenges. However, you will get protected easily, from natural disasters to bodily injury and more, with H&M Insurance Agency offering best-in-class hotel insurance in San Diego, CA.
Hospitality insurance is normally written as a package policy, which means that one policy contains multiple individual coverages. They are usually customized for a particular hotel's situation. Hotels and motels typically have many small business insurance needs, so policy needs to be tailored to custom business requirements.
INSURANCE COVERAGE OPTIONS
#1 Hospitality Insurance Agency in San Diego, CA
We offer customized insurance plans for your hotel or motel, so you can rest at ease and focus on other aspects of your business. Finding the best rates for your need is our main goal – H&M Insurance Agency will ensure that your business runs as efficiently as possible. San Diego hotel insurance policy options include:
General Liability Insurance
Helps you protect your hotel from claims that come from normal business operations, such as physical injury, medical payments, personal and advertising injury, defense costs, and property damage.
Commercial Property Insurance
Getting this comprehensive coverage can help you protect your business's physical assets like building, equipment, inventory, and furniture.
Workers Compensation
Protects your employees and your hotel from work-related accidents, illnesses, and even death. It is mandatory in almost all states.
Liquor Liability Coverage
If your establishment serves alcoholic beverages, this coverage will protect you from damage that intoxicated guests cause to the property, themselves, or others.
Foodborne Illness Coverage
If your hotel serves food, then foodborne illnesses can become a problem. Guests can sue you if they get sick, so this policy will cover all the costs.
Premises Pollution Liability
Covers bodily injury or property damage caused by pollution incidents, clean-up costs, and legal costs to investigate or settle pollution-related claims.
Commercial Auto Insurance
Consider this type of coverage if your hotel owns limos or shuttle services. It can help you pay for repairs to your company vehicle or a driver's medical bills after an accident.
Cyber Liability Coverage
Every hotel is at risk of data breaches and cyber attacks that aim at stealing guests' credit card numbers. Hotel owners can face large penalties for that, so this type of policy can cover those expenses.
Crime Insurance
Covers the losses caused by the misbehavior of your employees when some of your employees do something illegal in your hotel.
Equipment Breakdown
Helps cover the cost of replacing or repairing the damaged equipment, like a computer or your heating and cooling system goes out. You may lose your guests due to these problems, so you will reimburse your lost income.
Utility Interruption
All the costs that can arise from utility failure caused by a covered peril will be covered.
Business Interruption
The income loss covered may be due to disaster-related closing of the business facility or due to the rebuilding process after a disaster.
Unemployment Insurance
Although already included in your state taxes, it will provide temporary financial support to employees who became unemployed, but not because they are at fault for that.
Disability Coverage
Mandatory if your hotel is in the state of California; it covers the short-term wages for employees who need some time off work.
Medical Insurance
If your hotel has more than 50 full-time employees, it is required by law that you provide them with employer-subsidized health insurance.
Business Insurance
Another mandatory insurance. It will protect your hotel and motel from extreme financial losses due to accidents, natural disasters, and many other problems.
CALL FOR THE BEST HOTEL INSURANCE IN SAN DIEGO, CA
Why We are the Best Hotel Insurance Agency in San Diego, CA?
Providing a safe and satisfying experience to guests is probably the main goal of every hospitality business. Having the right hotel or motel insurance at a reasonable price can prevent many risks associated with this industry. Our experienced and dedicated team can analyze your insurance risks and find the best possible policy for your unique needs.
Our custom-tailored policies will provide coverage for your specialized business. In addition, we have the full understanding of the state's economy, as well as the limits and regulations that are in place for commercial insurance, so we can be your trustworthy and reliable partners.
Family-owned company;
More than 50 years of experience;
Best possible rates and competitive prices;
Partners with many eminent insurance companies and providers;
Establishing long-lasting relationships with our clients;
Our agents will walk you through the entire process and help you if you have any concerns;
Enormous experience in San Diego and California market;
We reduce costs, minimize risks and deliver quality coverage based on your specific needs;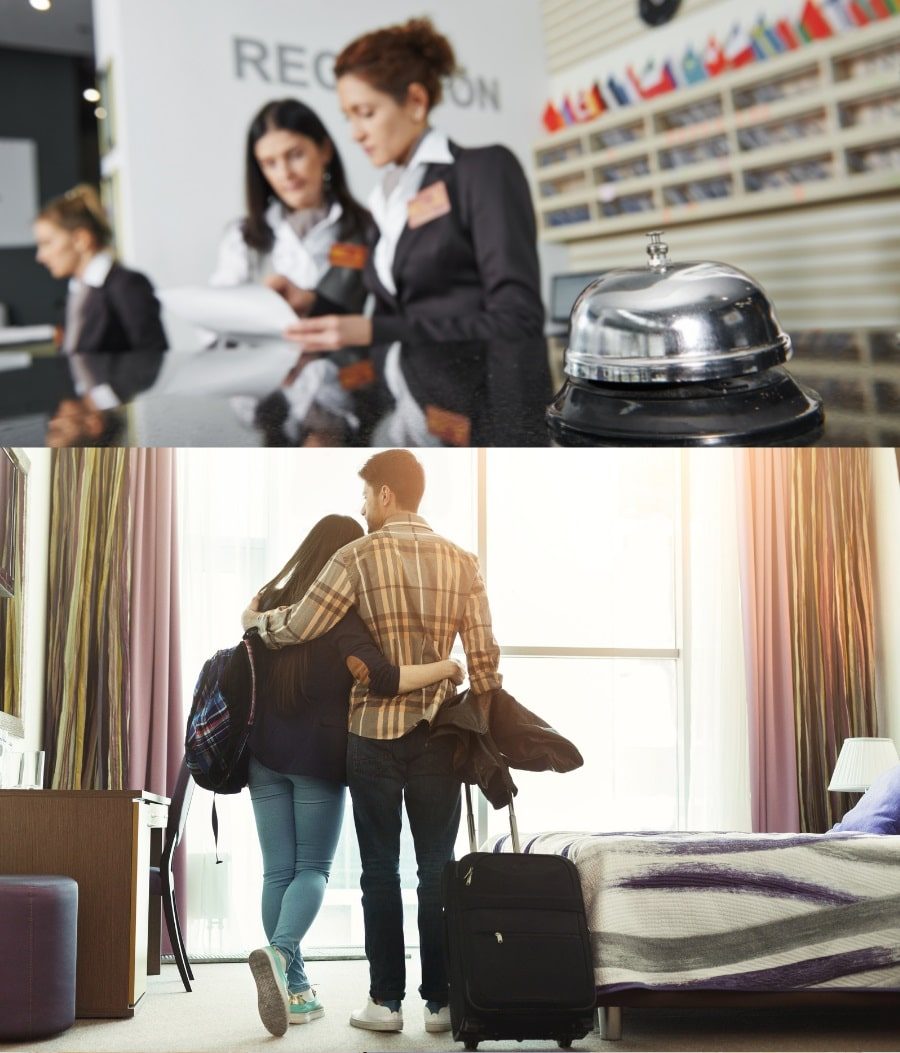 Hotel and motel insurance policy is designed to the specific needs of the hospitality establishments. Therefore, it contains multiple individual coverages, mostly written as a package policy.
Average hotel insurance cost depends on various factors like the size of your establishment, services you provide, number of employees, location of the business, annual revenue, valuation of assets, and many more. Talk to our agent to find out more information and get the best possible price.
Yes, loss of use coverage typically pays for hotel stays if your residence is uninhabitable due to a covered loss.
Hotels in Our City
Tourism in San Diego owns the city's climate, beaches, and tourist attractions such as Balboa Park, San Diego Zoo Safari Park, Belmont Amusement Park, San Diego Zoo, and SeaWorld San Diego.
Hotel del Coronado is a San Diego icon and a full-service beachfront resort. It offers easy beach access, a swimming pool, and the former boathouse on Glorietta Bay, today a restaurant.
You can visit Pendry San Diego in downtown –  a boutique hotel with a beautiful pool deck with cabanas, a social club, a great restaurant, and fantastic urban coastal California décor.
On Mission Bay, you can stay in San Diego Mission Bay Resort, a nice family resort. Tower23 is a beachfront, modern boutique hotel located in Pacific Beach. Mediterranean-style La Valencia Hotel is located on Prospect Street in La Jolla.
Luxurious Fairmont Grand Del Mar offers many family programming, heated pools, an equestrian center, and much more. Carlsbad offers a 4-star Omni La Costa Hotel at reasonable prices – it provides a splash pad area and kid's club, and for the adults, you have a spa and golf.
Looking for Hospitality Insurance Companies in San Diego: Call us at (619) 296-0005
You can count on our team of experts to offer you the best possible rates to protect your business, guests, and employees. Effective risk management and loss prevention is our goal. Feel free to contact our agents at (619) 296-0005 for any additional information.
RELATED READINGS TO SAN DIEGO HOTEL INSURANCE:

5 Best Small Business Insurance Policies
Provide a certain level of protection to your business – learn about the most common insurance policies your small business will probably need.

Everything You Need to Know About Workers Compensation Insurance
Designed to protect your employees from the job-related injuries the workers comp will cover the costs of medical treatment and loss of wages. It is required by law in most states, so read on to find out more.

Umbrella Insurance San Diego: What Does It Cover?
Working like basic liability insurance – umbrella insurance kicks in if your liability insurance policy exceeds its limit. With this additional layer of protection you will have peace of mind when it comes to inconveniences you are claimed as at-fault.