Pest control business insurance San Diego is a type of small business insurances that provides outstanding protection for pest control companies and provides all the coverages tailored to your individual needs. Be sure that our pest control insurance policy puts the client in charge, provides comprehensive coverage for their business, and puts money in their pocket. Do not allow an unforeseen problem to turn into a pest; have the peace of mind that comes with comprehensive insurance coverage tailored to the pest management industry and safeguard your company's success.
H&M insurance company's agents work with the country's biggest network of specialist insurance carriers to keep your business running smoothly. We strive to give you an insurance solution that is both valuable and affordable. As an independent agency, we offer multiple options for pest control insurance in California, so do not hesitate to contact us for a free quote.
INSURANCE COVERAGE OPTIONS
Insurance For Pest Control Operators in San Diego
You must carefully pay attention to the company's details, manage your suppliers, and keep everything operating well to maintain your company's success. Obtain the necessary types and levels of commercial business insurance to ensure that all of your efforts and assets are covered. We offer the following coverage options:
General Liability Insurance
General liability insurance safeguards a company against bodily injury, property damage, and advertising claims made by consumers and clients. These allegations might stem from your business's products, services, or activities. You might end up paying out of your business's profits or, in the worst-case situation, go bankrupt if you do not have general liability insurance. It is sometimes known as "commercial general liability insurance" or "business liability insurance."
Business Owner Policy (BOP)
A BOP is a smart alternative for small businesses that engage directly with the public and possess property, even if coverage is not needed. This coverage covers financial losses caused by client accidents and incidents such as fires and break-ins. A BOP was created with low-risk small enterprises in mind. If your company qualifies, you will save money and get coverage for the most frequent claims.
Workers' Compensation
While workers' compensation is not specifically designed to safeguard businesses from responsibility, it does give some liability protection. You provide a layer of security for your company by covering for missed income and medical expenditures due to on-the-job accidents, injuries, and illnesses. If an employee dies on the job, the individual's family or selected survivors will also get death benefits.
Errors & Omissions
Errors and omissions insurance (E&O) is a type of professional liability insurance that protects employees and employers from claims of carelessness, errors in given service, omissions, misinterpretation, inaccurate advice, and other claims of negligence made by clients. Legal fees involved with the claim are frequently covered by E&O coverage.
Commercial Auto Insurance
While this liability protection is not unique to pest control firms, it is critical for your company since your personnel spends so much time on the road, going from one job site to the next. Furthermore, due to the chemicals you transport, there are added hazards and dangers in the event of an accident.
Commercial Property Insurance
Commercial property insurance protects your company's physical assets from fire, explosions, broken pipes, storms, theft, and vandalism. Unless added to the policy, earthquakes and floods coverage is often not covered by commercial property insurance.
Tools & Equipment
Theft of contractors' tools, equipment, or machinery is one of the most serious threats they face. Do not expose the tools and equipment you own to that danger without the proper protection. Contractors can protect themselves from financial damage by insuring the minor assets that help them complete the work. Also known as inland marine insurance, it will protect your high-valuable property.
Business Interruption Insurance
When a firm is afflicted by a covered risk, this insurance coverage can assist recover lost revenue and paying for additional expenditures. A business owner's insurance policy usually includes business interruption coverage (sometimes known as business income coverage). It typically does not cover earthquake or flood damages, for which you will need a separate policy.
Umbrella Coverage
While all of the previously mentioned liability insurance safeguards are necessary for your pest control company, there may be times when they are insufficient. Judgments may exceed your coverage limitations. This is where umbrella and excess liability protection comes in, providing coverage over and beyond the limits of your existing insurance plan.
Pollution & Fumigation Liability
It is probably wise to have pollution and fumigation liability coverage when you use many chemicals and pesticides. This sort of insurance protects your firm if a pesticide or other chemical is involved in a pollution incident due to an accident, a mistake, or other factors.
Care, Custody, and Control Liability Insurance
This policy safeguards you if you or your staff misuse or misapply the substances you use, causing danger or damage. You have been charged with keeping these substances secure. However, mistakes and mishaps do happen. When they happen, this protection will assist you in dealing with the consequences of these acts.
CALL FOR PEST CONTROL LIABILITY INSURANCE IN SAN DIEGO, CA?
WHY CHOOSE H&M INSURANCE AGENCY?
Finding Insurance for Pest Control Company in San Diego Has Never Been Easier
More than 50 years in the insurance business
Specialized in San Diego and California markets
A family-owned company with an amazing reputation
We strive to minimize costs and reduce risks for you
High-quality, tailored coverage you can rely on
Very affordable prices, with many discounts available
We shop around for you, so you do not have to
We are partners with the most reputable insurance companies
Personable and helpfulcustomer service
We take your feedback seriously.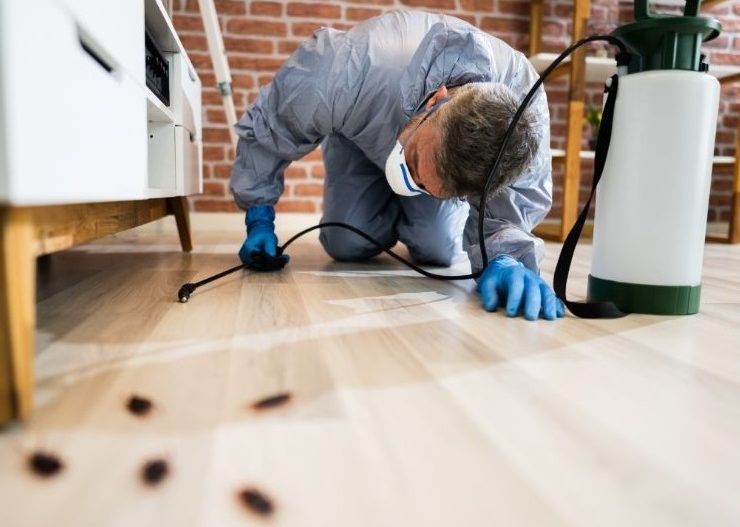 You have undoubtedly spent many sleepless nights worrying about the various ways your company may be sued. If you do not have sufficient insurance, you might be responsible for paying for termite damage, misapplied chemicals, or stained or damaged your client's property out of your own pocket.
That is why you need H&M insurance agency's pest control operator insurance. Our rules are created expressly for pest control firms by professionals with years of expertise in the field. Together, we can create a policy that is tailored to your company's requirements.
Whether home or commercial pest control services are offered, there will be dangers such as property damage and pollution, especially if fumigation is used. Some of the businesses that need pest control insurance are:
Fumigators
Bed bug/Insect exterminator control
Residential & commercial pest control
Rodent/Wildlife control services
The pest control business insurance cost depends on the several factors:
Number of employees
Years of experience
Location
Tools & equipment owned
Annual and projected revenue
Project type
Safety procedures available
Let Us Help You Find Pest Control Insurance in San Diego
As one of the best pest control insurance companies in San Diego, we will undoubtedly show professionalism and how much we care about your insurance needs. With our complete pest treatment insurance package, you may get low prices on the property, liability, commercial car, bonds, workers compensation, and umbrella coverage. We are aware of the dangers of your business. The pest control program at H&M insurance company is tailored to pest control professionals. Our experience and knowledge and our long-term ties and dedication to the industries we service enable us to stay close to our customers and meet their pest control insurance needs.
RELATED TO PEST CONTROL INSURANCE


Umbrella Insurance – An Extra Coverage from Excessive Costs
It covers the cost of defenses in court and the percentage of a settlement or judgment that exceeds your insurance liability limits. Any expenditures not covered by your insurance would have to be paid out of pocket if you did not have umbrella coverage.

Everything You Need to Know About Liability Insurance
Liability coverage is included in small business, vehicle, and home insurance plans. It can save your life if you are at fault in an accident. This article will walk you through liability insurance basics and why it is so crucial to have one.


LLC Insurance for Full Business Coverage
In the event of a lawsuit, having sufficient liability insurance for your LLC might be the difference between bankruptcy and your LLC continuing to operate. It is an important aspect of your company plan as well as your financial security.