Parking lot and garage insurance in San Diego are specifically designed to meet the needs of businesses that keep people's cars and care on a daily basis. If your small business works with vehicles, you also need to consider garage keepers coverage, as it may protect your customer's vehicles from being damaged while it is in a garage or a parking lot. As a type of small business insurance, it will safeguard your business against various liabilities while you are conducting your job duties. These liabilities may include things like slips and falls or damages resulting from inadequate work. Even a minor incident can result in a costly lawsuit that can damage a business beyond repair, so with the right insurance for garages in San Diego, you can focus on growing your hardly-earned company.
The team of the H&M insurance agency will help you find a suitable small business insurance policy through one of our trusted providers.

Garage Keepers Insurance

Parking Lot Insurance

Garage Liability Insurance
Who Needs Garaging Insurance in San Diego?
You have to make sure that the client's vehicles are safe. The businesses that usually purchase garaging insurance are:
Car dealerships
Interior detailers
Custom shops
Repair shops
Tow truck operators
Car washes
Tire shops
Auto parts stores
Oil change services
Parking garages and lots
Detailers
Windshield and window installers
Valet services
Independent mechanics
COVERAGE TAILORED TO YOUR NEEDS

Insurance for Garages and Parking Lots in San Diego
Garage Keepers Coverage
It is specialized liability coverage for non-owned vehicles. If such a vehicle sustains damage, garage keepers coverage will help pay for necessary repairs or replacements. Auto service centers, independent mechanics, tow trucks, and many others need to have it.
Garage Liability Insurance Policy
This insurance coverage will add another layer of protection to the general liability insurance. It covers the day-to-day operations of the automotive industry businesses. It includes property damage and bodily injury from direct garage operations.
General Garage Liability Insurance
The protection against slip and fall injuries on the parking lot or property damage in your garage has never been easier with our general liability insurance. It will cover litigation, court fees, out-of-court settlements, and other fees.
Business Owners Policy (BOP)
Combination of liability, property, and business interruption packages are conveniently bundled into one policy. It is perfect for parking lots, garages, and dealers and provides direct protection for your business assets.
Workers' Compensation
Your garage or parking lot employees will be protected from job-related injuries, medical bills, recovery costs, lost wages, and other related bills. It is required by law in most states.
Employment Practices Liability Insurance (EPLI)
In cases when you face defense costs and damages related to different employment-related claims such as allegations of wrongful termination, workplace harassment, discrimination, or retaliation, it can be useful to have EPLI.
Commercial Property Insurance
It will protect the physical assets of your parking lot from fire, storms, explosions, burst pipes, vandalism, and theft. Plus, it will protect all the equipment, like automatic pay stations, EV charging, entry and exit gates, and other items.
Equipment Breakdown
When your monitoring system, multi-space meters, or parking guidance system goes out of order, this coverage will pay for the cost of the replacement or repair of damaged equipment, as well as lost income and other expenses during the restoration period.
Business Interruption
Lost income after a covered peril can seriously affect the business. Covered perils typically include fire, theft, lightning, falling objects, and theft. Reimbursed expenses may include rent, loan payments, revenue, taxes, payroll, relocation costs, and some extra expenses.
Commercial Auto
Do you or your employees drive for business purposes? In that case, you will need business auto insurance to safeguard your company when auto accidents happen. It will pay for property damage and physical injuries sustained in an accident.
Employee Dishonesty Coverage
Also known as commercial crime insurance or employee theft insurance, it can protect your parking lot business from financial losses due to the criminal acts of one or more employees.
Umbrella Insurance
With this additional layer of protection, your garage and parking lot will be protected beyond existing limits and coverages of other parking insurance policies. Contact H&M insurance company to find out more about an umbrella policy.
What is Garage Keepers Insurance?
When you assume possession of the client's vehicle, your business generally becomes responsible for any damage the vehicle sustains. Garage insurance coverage in San Diego will help you pay for any necessary repair or even replacement of the non-owned vehicle. It usually covers the following perils: theft, fire, collision, and vandalism.
What Does Garage Keepers Insurance Cover in California?
Insurance for garage keepers usually has three coverage options:
Legal Liability – it is the basic coverage and covers only the losses when an employee is legally liable for the damage to the client's vehicle, regardless of negligence or mistake.
Direct Primary – the client's vehicle will be guarded no matter what happens in the garage; the garage owner takes full responsibility and charges for any vehicle in the shop.
Direct Excess – this coverage acts similarly to direct primary, except for the fact that if the insured is not liable, the coverage will pay only over any amount that is collectible under the standard auto policy.
Garage Keepers vs. Garage Liability
If you plan to start a business in the auto industry, then you will eventually come to the terms 'garage keepers insurance' and 'garage liability insurance.' These are not the same, there are some significant differences, yet they are designed to work together and provide comprehensive coverage. Let's check how they protect your business.
Garage keepers coverage offers financial protection for the vehicles you do not own – such as customer's vehicles. For example, if your technician accidentally dents the customer's car left for servicing, garage keepers insurance will cover for expenses of the repair of the body.
Garage liability coverage only helps pay for some garage-related lawsuits due to the regular business operations. For example, it will cover for customers slipping and falling in your shop or your employee damaging the client's property. It is usually the first type of coverage automotive businesses purchase.
DON'T MISS A CHANCE FOR A PREMIER COMMERCIAL GARAGE INSURANCE IN CALIFORNIA
What is Parking Lot Insurance?
It is comprehensive insurance designed to protect your business from unexpected scenarios and situations. Whether you are responsible or not, costly lawsuits can drain your bank account if the incidents happen on your lot. With the proper parking lot insurance in San Diego, you will be protected against vehicle damage, theft, customer injury, lost business income, personal injury, and more.
Any establishment that is primarily engaged in the temporary parking of vehicles, usually on an hourly, daily, or monthly fee or contract basis must obtain parking lot insurance. This includes:
Parking lots
Parking structures
Tow-in parking lots
Valet parking services.
What is Garage Liability Insurance?
A car garage insurance policy serves as an umbrella policy for parking garage operators, automobile dealerships, and parking lots. It covers property damage as well as bodily injury resulting from garage operations. With general liability coverage, it serves to protect businesses in the automotive industry fully.
Most policies usually cover:
Third-party bodily injuries
Discrimination and other liability claims
Employee dishonesty
Property damage resulted from business-owned equipment usage
Products sold or manufactured by your business that caused damage to a client's vehicle.
In short, the garage liability policy covers the liabilities that arise from usual business operations. However, the coverage is not entirely comprehensive. It will not cover an employee's injury or illness – you will need workers' compensation insurance. It will also not cover damage to the premises itself, for that you will need to purchase commercial property insurance.
Garage liability does not cover the damages to the client's vehicles. If you need to protect vehicles that are brought into your business for repair, you will need the abovementioned garage keepers liability insurance.
Does Insurance Cover Parking Lot Damage?
If your car is hit by another car in the parking lot and you have collision coverage included in your car insurance, then your insurance will pay for the damage. Suppose your car is hit by a shopping cart in the parking lot. In that case, your comprehensive coverage from the auto insurance policy will pay for the damages. In case you are at fault for the accident, then you need to pay for any damage to your car.
Who is Responsible For Vehicle Damage in a Parking Lot?
If a parking lot has a liability sign that they are not responsible for any damage that may occur to your vehicle on their parking lot, you cannot hold the company responsible for the damages. As they usually have cameras, you can obtain video footage of the perpetrator and find out who is responsible. The best thing to do is to report the accident to your auto insurer, who will thoroughly investigate the accident to determine what happened, and, if possible, get a payout for you.
Why Choose H&M Insurance Garage Insurance in California?
We will make it easy for you to get comprehensive coverage in one place
Devoted to finding the best possible rates and customized garage insurance quotes
Passion for serving San Diego and California markets
Experts in garage keepers insurance for more than 50 years
We strive to find the parking lot insurance tailored to the unique need of your business
Get a free, fast, and easy quote for all types of garaging insurance
Fair prices with lots of discounts and flexible payment options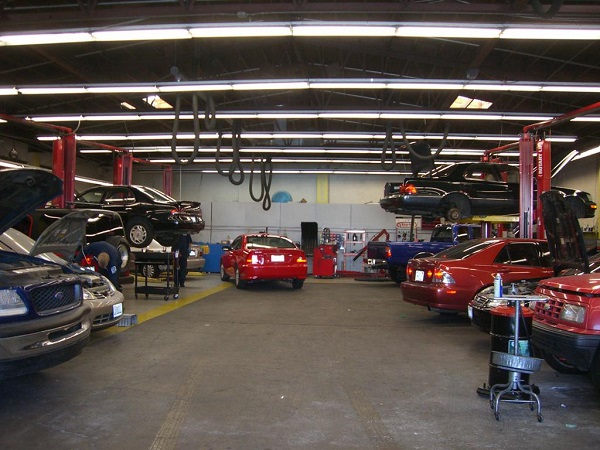 Quick Tips on How to Make Your Parking Lot Accident-Free
Keeping your customers and their vehicles safe is the main purpose of parking lots. It usually includes several security measures as well as regular maintenance. Here are some tips to minimize losses and prevent potential liabilities:
Install a surveillance system
Properly maintain a lighting
Make sure to avoid water buildup by properly maintaining drains
Regularly inspect the paving and fill in potholes
Mark entries, exits, parking spaces, and stairways
Inspect the lot for dangers regularly, and install warning signs
Keep walking space free of any debris
Install a fence to easier monitor the lot
Garage Keepers Insurance: We Have Got You Covered, Rest at Ease with H&M Insurance
Parking lots, garages, and other automotive businesses are prone to accidents. When such a situation happens, having proper garage insurance coverage can save your business from potential financial disaster. We offer all types of insurance you may need, helping small businesses make better insurance decisions. Please do not wait to insure your business; contact H&M insurance company at (619) 296-0005.
Related to Parking Lot Insurance

5 Best Small Business Insurance Policies You Should Consider
We will explain the five most common obligatory and non-obligatory policies you should consider for your parking lot business.

Everything You Need to Know About Liability Insurance
Working around people and their property always comes with a certain dose of risk. Learn more about liability insurance and prevent huge financial losses.

Umbrella Insurance – An Extra Coverage from Excessive Costs
The importance of having umbrella insurance is thoroughly explained in this text. Learn how to add another layer of protection to your commercial garage insurance policy.