Auto Repair Shop Insurance in San Diego, CA
Protect Your Auto Repair Shop with Insurance Tailored for Mechanics
If you're an owner of auto repair business, you face risks on daily basis. Your finances can be affected by common situations such as customer's vehicle damage, someone undergoing some injury on your property, or even fire destroying your shop. There are many unpredicted events that may have huge consequences for your business. So, consider purchasing an insurance policy designed especially for mechanics and auto repair shop needs.
H&M insurance is the leading company in managing the risks of small businesses. In the auto repair profession, the ability to reduce risks is the result of measures you're willing to implement. Our insurance company will make sure to secure your business against potential lawsuits and accidents while you are performing the job. H&M insurance agency will help you find the best business insurance for your type of shop through some of the leading insurance providers. Contact us using phone or website, or simply stop by our office, we are located at 801 Washington Street, San Diego CA 92103.
Who Needs Mechanic Insurance?
Garages
Auto repair shop
Mechanics
Tire shops
ASE or I-CAR certified shops
Body repair shop
Towing shops
Which Insurance Coverages Should I Purchase for My Auto Repair Business?
The type of policies you should consider are many, and your goal is to find the best providers and find the perfect insurance plan. Some of the most relevant mechanic insurance coverages are:
Commercial Property Insurance
When having a business property, whether owned or leased, you should protect its value from potential damage such as fire breaking out, floods and many others. Commercial property insurance covers equipment, building, technology, furniture, and supplies impairment. This type of coverage will help you compensate for any repairs or replacement of damaged property. Common issues which may cause property damage are theft, storms, explosion, flooding, and even vandalism.
General Liability Insurance
Your auto repair shop is visited by many customers every day and if some accident happens to them on your property, general liability insurance will protect your assets. For example, if a customer trips over your jack stand and gets hurt, general liability could help you with paying for emergency medical care, further treatments or legal fees. This insurance preserves your shop from third-party injuries, property damage, and advertising harm. Click here for more about general liability insurance for small businesses.
Business Interruption Insurance
Electrical overstress at your repair shop may cause a fire to break out and destroy the building or equipment needed for operating the business. It can happen that you won't be able to work for a few months while the shop is being fixed. Business interruption insurance would cover the lost income, repairment and operating expenses such as rent and utilities.
Garage Liability Insurance
Garage liability insurance is specially designed for owners of mechanic shops. It covers an accident caused by third-party and property damage which your garage operation caused. Your garage liability insurance would cover an accidental slip and fall caused by tripping over some lying tools. The customer may seek medical attention and this insurance will pay for any bills and legal fees.
Garage keepers Insurance
This is a very important coverage for your automotive repair shop. There are many vehicles parked on your property, whether being repaired or waiting for service. Garage keepers' insurance will assist you to cover any potential damage caused to customers' vehicles. Read here more about garage insurance.
Commercial Auto Insurance
Your commercial auto insurance can help you with bills caused by employees hitting or colliding with another driver. Some auto repair shops offer towing services or drivers must hit the road to pick up some automobile parts. If your employee has an accident while travelling for business purposes, this insurance will cover vehicle damage and bodily injuries of third-party. Here you can read details about commercial auto insurance.
Workers' Compensation Insurance
This insurance provides coverage for the employees at the repair shop. Car repair service is a very risky job since workers use fuel, oil, and other toxic chemicals to perform their job. They also work with heavy equipment and tools which can cause many injuries. In the state of California every business owner must purchase workers' comp insurance since they're obliged by law. This page gives detailed info about workers' comp insurance in California.
Errors and Omissions Insurance
We believe that your mechanics are all experienced and well-trained, but mistakes occur in every profession. Errors and omissions insurance would protect your business from allegations of mistakes and negligence. For example, your employee damages customers' vehicle while fixing an issue, unless you own errors and omission insurance, you'll be held responsible to cover for expenses.
Commercial Crime Insurance
Commercial crime insurance will protect you from potential losses caused by robbery, burglary, or fraud. It applies to both employees and outside parties. Auto repair shops own very costly equipment, and some vehicles can be stored there for days waiting to be repaired.
Equipment Breakdown Insurance
The equipment and tools needed for operating a successful auto repair shop include vehicle lift, air compressor, jack stands and pole jacks, oil drain, battery charger and jumper, engine hoist, etc. The whole setup is very expensive, and you need to secure it by owning equipment breakdown insurance. This insurance will provide funds to replace or repair the impaired working tools and cover lost income.
How Much Does Mechanic Shop Insurance Cost?
The cost of your insurance premium mostly depends on the provider you choose and factors such as:
Types of services in your auto repair shop
Location of the business
Equipment value
Certifications your employees may own
Bundling few coverages
Furthermore, you should keep in mind the following when buying insurance policy: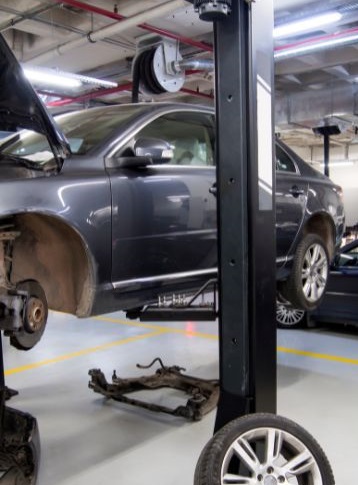 Why Considering Our Insurance for Auto Repair Shops and Independent Mechanics
We are independent insurance agency working with the most prominent insurance providers
Specialized in California and San Diego market
For more than 50 years we provide excellent auto repair shop insurance coverage
We can get you comprehensive and complete coverage in one place
Our company offers affordable services and flexible payment options
Why Wait? Auto Repair Shop Insurance Just a Few Keystrokes Away
Whether you want to protect the equipment, employees' and customers' interests, or your own finances, we'll take care of your small business insurance premium. There are countless situations in which you can get financially ruined. Do not wait until an unpredicted event destroys something that took years to build. Contact H&M insurance company at (619) 296-0005 or ask for the quote below.
More Resources Related to Mechanics Insurance