As a type of small business insurance, car wash insurance coverage in San Diego protects your business physically and financially. While car washing may appear to be a straightforward operation, there is a lot to consider when protecting your work area, all of your equipment, and your clients' cars. It is impossible to predict when something will go wrong, so having a comprehensive mobile car wash detailing insurance in San Diego will safeguard your business against a variety of potential liabilities.
Car washes, like any other business, involve some level of risk. As a result, liability insurance can help. It protects your company from various legal claims, including bodily and property damage. The amount of coverage your company needs is determined by several criteria, including where your business is located, how many staff you have, and how many customers you serve daily.
It is vital to realize that accidents might happen no matter how careful you are. Theft, vandalism, employee crimes, customer vehicle damage, equipment breakdown, and various other situations can all be covered by the best car wash insurance program San Diego has to offer.
INSURANCE COVERAGE OPTIONS
San Diego Mobile Car Wash Insurance Options
Each kind of car wash has its own set of concerns that could jeopardize the viability of your business. These hazards can be mitigated with the right car wash insurance policy. We offer:
General Liability Insurance
If you are in the business of keeping cars looking their best, general liability is the most important coverage you will need. You will be covered financially if someone other than an employee is injured or if you are proven liable for property damage. If a customer's vehicle becomes caught in a wash bay and the mirrors are pulled off, car wash liability insurance may be able to assist with the cost of repairs.
Business Owner Policy (BOP)
BOP is a single commercial insurance policy covering liability and business property insurance. A BOP protects your company from claims originating from perils such as theft, fire, or other covered events. This insurance also aids in the coverage of claims that may emerge due to your company's operations. These include property damage and personal injury claims. Advertising and personal injury claims are also included.
Workers' Compensation
This kind of insurance protects your car wash business and you as the owner from claims made by employees who are injured, ill, or die as a result of their work. Workers' compensation payouts typically include medical expenditures, a percentage of the injured employee's lost wages, rehabilitation costs (if appropriate), and permanent partial or whole disability.
Garagekeepers Liability
If you damage a customer's vehicle, garagekeepers may be able to assist you in covering costs. Suppose one of your employees unintentionally drives a customer's car into a payment kiosk and dents a fender. In that case, garagekeepers insurance can assist cover the cost of the repairs to the car's body. It can assist you in covering the expenses of dents and scrapes, vandalism, fire, and extreme weather.
Commercial Property
Damages to your business property are not covered by general liability coverage. That is the purpose of business property insurance. It safeguards all of your company's physical assets, including your building, inventory, and equipment, and provides you with the funds you need to replace them in the event of a calamity.
Equipment Breakdown
Also known as machine malfunction coverage, is a policy that assists in repairing or replacing broken or damaged machinery or equipment. Car wash equipment might break down at any time, and resuming normal operations can be difficult if you do not have the necessary tools on hand. It is critical to have your machinery serviced or replaced as soon as possible to avoid lengthy service interruptions. Repairs or a new installation will be covered by machine malfunction insurance.
Business Interruption
When a business is affected by a covered risk, business interruption insurance can assist recover lost income and paying for additional expenses. A business owners' insurance policy usually includes business interruption coverage (sometimes known as business income coverage). Theft, fire, wind, falling objects, and lightning are all examples of covered risks.
Commercial Auto Insurance
Commercial auto insurance is a type of business insurance that covers autos owned by or used by your company and protects you from liability for damages caused by accidents involving your company's vehicles. It also covers occupants of your company's vehicles who are wounded in accidents.
Car Damage Liability
Most car washes have strong procedures in place to reduce the possibility of client vehicles being damaged. Accidents, though, can happen at any time. If a customer's car is damaged by an unskilled staff or a defective machine, you could be held liable for the repairs. Liability insurance for car damage can assist pay for any damage you do to someone else's property.
Umbrella Coverage
Umbrella insurance is additional coverage that extends beyond the limitations and coverages of your standard policies. Injuries, property damage, some lawsuits, and certain liability issues can all be covered by umbrella insurance.
NEED A CAR DETAILING INSURANCE IN SAN DIEGO, CA?
WHY CHOOSE H&M INSURANCE AGENCY?
Custom San Diego Car Wash Insurance Plans & Much More
More than 50 years in the insurance business
A family-owned company with an outstanding reputation
Always willing to provide an objective assistance
Specialized in San Diego and California markets
Our prices are affordable, with many flexible paying options and discounts available
We are partners with the trusted A-rated insurance companies
Top-notch customer service
Knowledgeable team of insurance experts
We shop around for rates, so you do not have to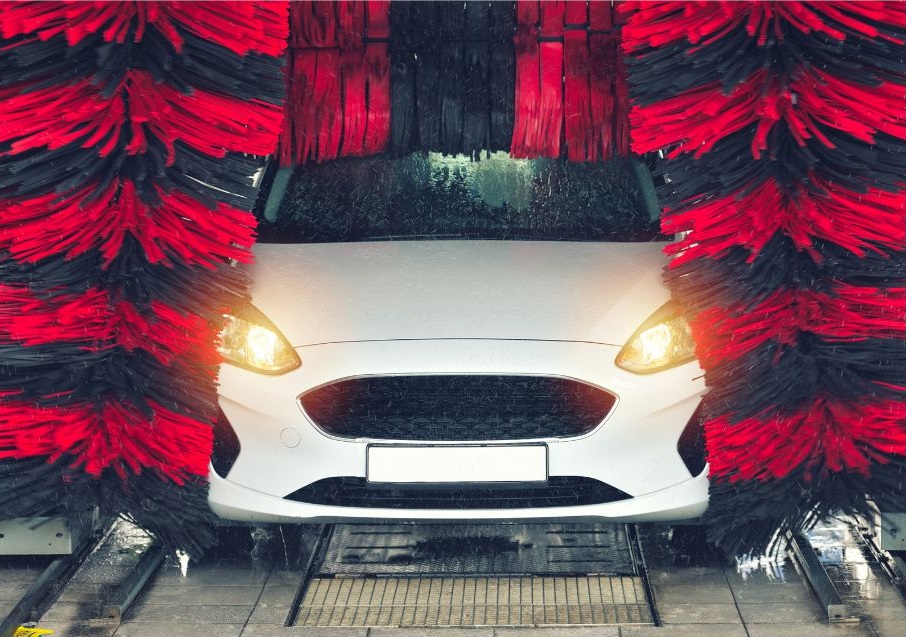 H&M insurance agency is well-versed in the dangers and exposures that come with car wash operations. Some of the most common types of car wash that need insurance are:
Mobile car detailing
Automatic car wash
Full-service car wash
Self-service car wash
Express tunnel
Flex service
In-Bay automatic
Hand wash
Car wash insurance cost depends on various factors that may include:
The location of your car wash business
Number of employees
Annual revenue
Type of car washing business
History of claims
The quantity of coverage purchased and the type of coverage purchased will affect how much your company must pay. Larger volumes of coverage are generally more expensive.
In a nutshell, vehicle insurance will pay for damages. On the other hand, the scratches must have been caused by a covered peril in your policy, such as a car accident or vandalism. However, it may not be worth submitting a claim, depending on your deductible.
Many car washes provide extra services to customers' vehicles, such as inside cleaning or detailing, which is done by car wash workers. The car wash owner is in charge of hiring and training personnel to complete these activities while upholding the organization's level of care. If a car wash staff acts carelessly and damages your vehicle, the car wash owner may be held liable for the employee's actions. In that case, the car damage liability policy will cover the damages.
Insurance For Mobile Car Wash San Diego: Try H&M Insurance
Customers entrust you with their vehicles. While most car washes can complete the task without incident, mishaps can occur in a matter of seconds. Accidents in car washes frequently result in bodily injury or property damage. While there is no way to prevent these situations constantly, you can make sure that your company is well-protected against the consequences. Any owner or operator of a car wash business needs to have car wash insurance. Don't hesitate to contact the H&M insurance agency at (619) 296-0005 for additional information on what car wash insurance covers.
RELATED TO MOBILE DETAILING INSURANCE

5 Best Small Business Insurance Policies You Should Consider
This text covers general liability, commercial car insurance, commercial crime insurance, commercial umbrella insurance, and BOP in detail, so you will not have to seek elsewhere.

The Things about Workers Compensation Insurance You Should've Known Before
Every company has its own set of dangers, so you must purchase a workers' compensation policy to safeguard your staff. To learn more about this obligatory insurance, click here.

Everything You Need to Know About Liability Insurance
Protection against third-party claims is critical to safeguarding your company's assets. Learn more about the many types of liability policies to ensure that you save money while avoiding the most common hazards.