Junk Removal Business Insurance in San Diego, CA
Get Affordable Insurance Coverage for Debris Removal Business at H&M Insurance Agency
Meet H&M Insurance Agency from San Diego, local insurance agents who will be more than happy to help you customize an insurance policy for your junk removal business that will financially cover inconveniences caused by work coincidences. In the last five decades, we have helped hundreds of small businesses just like yours to protect their employees and assets.
Debris removal companies play a vital role in helping people remove unwanted materials from their property. Whether your company works on construction sites, disaster areas, residential or commercial properties, you face many risks for your employees, equipment or clients and their possessions. Fixing problems caused by work accidents, unfortunate situations, and disasters can be extremely expensive. Instead of experiencing possibly pernicious financial situations, having the right insurance policy is one step ahead of any unlucky circumstance.
Insurance Coverage for Junk Removal Business
General Liability Insurance
General liability insurance is required for debris removal businesses in California. It covers the cost of legal defenses if a customer sues you for an unforeseeable event when your employee injures someone or damages property while on the job. Read more >>>
Business Owner Policy (BOP)
BOP is commercial property, general liability and business interruption insurance bundled in one package. This policy covers everything these insurances cover for a lower cost than getting them separately.
Professional Liability Insurance
Professional liability or errors and omissions insurance (E&O) is the policy that covers the legal cost of being sued for oversight or a mistake. Those mistakes could be undelivered services, not removing the entirety of debris or failure to finish the job on time.
Workers' Compensation
Workers comp insurance is one of the necessities for junk removal companies. This insurance covers the cost for your employees if they get injured during their working hours, the employee medical expenses and injury lawsuits. Read more >>>
Commercial Auto Insurance
Commercial auto insurance policy covers damage to properties or injuries caused by debris removal vehicles, trucks and vans, and other vehicles you use for business. Along with lawsuits and medical bills, it pays for vehicle damage caused by vandalism, bad weather or vehicle theft. Read more >>>
Commercial Property Insurance
Suppose your place of business, electronics, furnishings and inventory suffers damage from flood, fire, harsh weather conditions, vandalism or theft. In that case, this insurance policy will be a wise choice for your junk removal business. Read more >>>
Contractors' Tools and Equipment Insurance
Similar to commercial property insurance, contractors' T&E insurance protects expensive tools and equipment, covering the cost of replacing and repairing it if damaged by flood, fire, or vandalized or stolen.
Pollution Liability Insurance
This insurance policy protects your debris removal business from third-party property damage, injury or environmental damage due to any sudden or gradual pollution situation that occurs as a result of your work. Coverage includes civil penalties, fines and assessments, environmental damage, transportation exposures, clean-up costs, emergency response costs, and more.
How to Get Insurance Quote for Your Junk Removal Business?
This is the easy and quick part at H&M insurance agency! We make sure our clients don't wait and we make sure they choose the right offer for their business needs. We make a deal in the following steps:


Contact us by phone at (619) 296-0005 or the form below, and our insurance agents will schedule an appointment.


We compare all the insurance packages and policies for your business, advise you on what's the best choice and give you time to think it through carefully.


Pay insurance policy and fully protect your business.
How Much Does Junk Removal Insurance Cost?
The price you pay for junk removal insurance will vary depending on various factors:
Business location
The type(s) of insurance that you choose
The services that your business offers
Equipment
History of claims
Amount of insurance you need
The insurance company that you choose
The number of vehicles your business owns
The deductible and policy limits that you choose
The services that your business offers
The number of your employees
It is recommended to call us to provide you with an accurate and tailored quote for your business's specifics.
Why Choose H&M Insurance Agency?
Our agency has been dedicated to our business mission – providing only high-quality insurance coverage at the lowest possible prices. Our clients are always warmly welcomed by our staff and carefully informed about everything they need to know regarding protecting their small businesses. There are many reasons why many businesses owners choose to partner with us:
Dedicated to finding the best possible rates for debris removal businesses
More than 50 years of combined experience
We represent some of the most famous nationwide insurance companies
We make fast and easy for you to get complete coverage in one place
Our reputation is broadly known
Flexible payment options and discounts
First-class customer support
BBB accredited company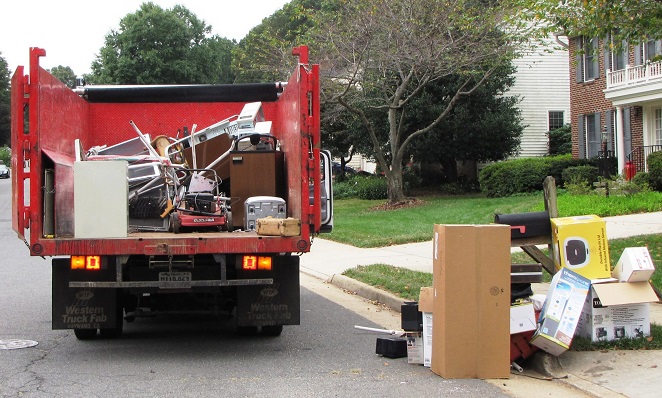 We are a Top-Rated Insurance Agency for Small Busienss
Great staff, especially Goran, with whom I cooperate. Very good quality service and everything can be completed online. I recommend to all who need insurance.
Great customer service. These guys are so knowledgeable and helpful. I feel like they really shop around for me and look out for my best interest.
Get a Free Quote & Protect Your Junk Removal Business With Proper Insurance
H&M insurance agency employs highly experienced professionals to help you with your debris removal business. Having your finances secured when a problem occurs is a lifesaving choice. You do not need to look further if you search for the best insurance agency for small businesses in San Diego. We are ready to take your call at (619) 269-0005, or you can email us or fill out our online form below. Thrive in your field of expertise, carefree!