Scooter Insurance Cost, Coverages, and Definition
One of the most cost-effective and exciting means of transportation involves scooter or moped. They are both convenient for riding during the warm spring days, and they can come in handy for coming to work or taking a couple of spins on weekends. Still, both purposes require you to carry adequate scooter insurance that will protect you from accidents and third-party claims.

MULTI MOTORCYCLE DISCOUNT
CLASSIC MOTORCYCLE INSURANCE
INJURY PROTECTION
COMPREHENSIVE COVERAGE
LIABILITY & COLLISION COVERAGE
MULTI POLICY DISCOUNT
GOOD DRIVER DISCOUNT
Many of us enjoy hitting the road on the scooter or moped, especially during weekends and sunny days. No matter how experienced and careful the rider is, accidents may happen – they can come as a result of third-party negligence, dangerous potholes in the road, or even a rider's fault. Such accidents may jeopardize someone's life and do substantial property damage that may cost a fortune.
The best way to protect yourself from third-party lawsuits, medical bills, and costs of property repair or replacement, make sure you have adequate scooter insurance. You can enhance it with different bike insurance you find critical for your safety and hit the road with an additional layer of security.
Scooter vs. Moped
To help you understand what type of policy you need to insure your two-wheeled vehicle, we should mention the differences between scooters and moped.
A moped (motor + pedals) is defined as any two-wheeled vehicle whose engine is about 50 cubic centimeters (cc) or less, and top speed about 30 miles per hour. Generally, a moped can be any bicycle with functional pedals that also has a small motor. Still, a moped can be a vehicle without pedals, as well.
As for scooters, they are considered more powerful than a moped, but not as powerful as most motorcycles. They often have no pedals but a flat surface where a rider can place his/her feet while driving. Scooters usually have engines between 50cc and 250cc, and they can reach speeds of between 40 and 80 miles per hour.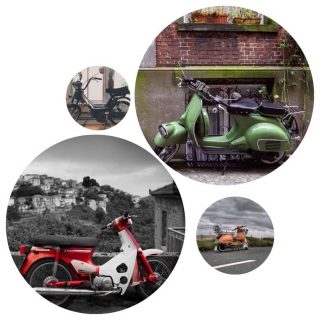 Definitions of both vehicles usually depend on the state, which tends to describe them a bit differently. However, people often use these two terms interchangeably.
The most common types of scooters and mopeds carriers insure are:
Vespa
Honda Forza, Ruckus, and Metropolitan
Yamaha Zuma
Suzuki Burgman
Vintage and classic models.
Do You Need Insurance for a Scooter?
According to the law in many states, every engine that is 50cc or greater must have scooter liability insurance. That said, the owners of mopeds and scooters should consider purchasing a policy that will protect them in case they cause an accident that results in third-party injuries or property damage.
Still, some states may not legally require you to carry insurance unless your bike is greater than 50cc or top speed exceeds 30 mph. It's essential to check your vehicle's specs and state's laws to see whether should or shouldn't purchase an insurance plan.
However, it's always recommended to get insured. Property damages and bodily injuries may result in extremely high costs you may not be able to pay out of your pocket, and the right coverage will make sure you're protected from the situations that may lead to a substantial financial loss.
What If I am Renting a Moped or Scooter?
The first thing to remember when it comes to renting any vehicle is that you shouldn't do it unless you're appropriately licensed to operate it. Still, if you meet all the requirements set by the state where you're renting a vehicle, you should know some things regarding insurance.
If you're renting a moped or scooter from a business that doesn't require you to be adequately licensed, you may be at risk of being declined by your insurer in case of an accident. Namely, no insurance carrier will cover you if you're breaking the law.
Also, it's essential to abide by the law of the state in which you're renting a vehicle. For example, even if the particular country doesn't require its citizens to carry moped insurance, they might need you to insure a rented vehicle through the rental company, which often provides temporary scooter and moped rental insurance policy.
Make sure you become familiar with the rules of the state in which you plan on renting a moped or scooter. Insufficient knowledge about the law and insurance guidelines may lead to severe consequences and substantial money loss.

What If I Took Out a Loan to Pay for a Scooter or Moped?
Although you might not be legally required to carry insurance, you must have a policy if you took out a loan to pay for your scooter or moped. A policy will guarantee that you will pay for your scooter, which is why banks or loan companies may want you to get insured.
Still, insurance is worth considering even if you paid for a scooter or moped. Without it, you won't be eligible for reimbursement if your vehicle gets damaged in an accident or if you cause damage to someone else's property.
What Is Included in Scooter and Moped Insurance?
Scooter and moped insurance usually includes liability, collision, and comprehensive coverage, depending on the policy you choose. You can always add more coverages you find essential for your safety and make sure you don't suffer bankruptcy in case of an accident.
Here are some of the typical scooter and moped insurance coverages:
General liability insurance is required by most states, mainly because it covers the costs of third-party claims where you're held liable. The most common types of general liability include bodily injury liability – helps cover someone else's medical expenses if you cause an accident that injures them – and property damage liability – helps you pay for repair or replacement of someone else's property whose damage you caused.
Collision coverage will help you pay for repair or replacement of your scooter or moped in case you get involved in an accident with another vehicle or object, such as a fence, mailbox, a tree, or something else. It kicks in no matter whether you're at fault or not.
Comprehensive coverage is essential for protecting your vehicle from damages caused by theft, vandalism, or fire. Note that comprehensive coverage doesn't apply to collisions.
Additional coverages you can include in your moped insurance are:
Uninsured motorist coverage will protect you from so-called hit-and-run accidents and accidents caused by uninsured drivers.
Underinsured motorist coverage provides protection from the accidents in which a liable third-party doesn't have sufficient liability insurance.
Medical payments coverage is also known as Personal Injury Protection (PIP), and it helps you pay for medical costs for you and your passengers get involved in an accident. You'll get a proper reimbursement no matter who's at fault.
OEM endorsement makes sure your scooter is repaired with new parts that come from the original equipment manufacturer (OEM), whenever it's possible. When it's not, your insurance carrier should issue payment based on the fair market value of the new part you should've taken at OEM. It's usually available for vehicles less than 10 years old.
What about Classic Moped and Scooter Insurance?
If you have a vehicle that's classified as vintage or classic, you should insure it with a specific policy for vintage and classic vehicles, which are not supposed to be ridden. Still, if you want to get it fully protected, consider some of the options that include liability insurance and anything else that your state might require. You can always add more coverages if you want to ensure your safety.
How Much is Scooter Insurance?
Since mopeds and scooters generally have smaller engines than traditional motorcycles, insuring them is usually much cheaper. Besides, they are considered less risky than greater engines since they can't travel as fast and are limited to where they can be ridden. Therefore, potential damage to someone else is significantly lower.
The average scooter insurance cost you can expect to pay is about $250 per year, which is more affordable than most insurance policies. Still, the exact price will be determined based on the following factors:
Anti-theft devices and alarms
Coverage limits and amount of deductibles you're willing to pay
Engine size
Riding experience
The state where you live
Vehicle year, make, and model
Weekly mileage.
The mentioned factors may impact the moped insurance cost, making it lower or higher. Still, many insurance agencies offer discounts, such as a multi-vehicle discount, a multi-policy discount, as well as moped and scooter safety course discount. You should take advantage of such opportunities and save as much money as you can.

5 Safety Tips that Will Help Your Get Lower Moped and Scooter Insurance Rates
If you implement some of the best safety tips while riding a moped or scooter, you'll not only enhance your protection on the road but also get lower insurance premiums. Have a look at the following pieces of advice:
1.      Wear Helmet
A helmet is the first and the most important thing to consider when hitting the road on moped or scooter. It can provide fundamental protection against the most severe head injuries that may bring fatal consequences. Besides, it reduces wind noise, minimizes debris in your face and eyes, and helps protect against extreme temperatures.
It's not recommended to ride without an adequate helmet, which is why you shouldn't even consider a scooter if you don't have the appropriate gear.
2.      Wear Bright Colors
Motorists often have a difficult time spotting scooters on the road, which is, in most cases, the most common cause of accidents. That said, you should consider wearing bright colors, reflective clothing, and adding reflective strips to your helmet and boots.
That way, you'll ensure that other drivers know that you're on the road and prevent potential collisions that might come as a result of poor visibility.
3.      Provide Protective Gear for the Rest of Your Body
Apart from a helmet and bright colors, critical for avoiding accidents, you shouldn't forget about the gear that would protect the rest of your body.
Therefore, you should provide eye protection (goggles), and protective pants and jacket that will safeguard your skin and prevent serious injuries.
4.      Don't Forget to Give Signals
Other motorists on the road won't know where you're going unless you tell them. That said, you shouldn't forget to signalize when you're about to turn or change lanes to prevent potential collisions and severe accidents that could put your life in danger.
5.      Be Loud
Use your horn whenever it's necessary – for example when someone's about to do something dangerous that could affect your safety. You'll have the opportunity to save both you and the person that's not aware of your presence.
By following the mentioned safety tips, you mitigate the risk of accidents and make sure you provide a clean driving record. Riders whose history is not marked with accidents are more likely to get discounts, while motorists that got involved in collisions and other types of road incidents are considered risky, which is why their premium will be significantly higher.
Other ways of getting cheap scooter insurance include:
Homeowners' discount: If you already have a homeowners' or condo policy at one insurance agency, make sure you choose the same one for issuing a moped insurance premium. That way, your insurer may propose certain perks and discounts that will help you save money.
Paid-in-full discount: Most insurers tend to award you with a discount if you decide to pay off your annual premium in full.
Safety course discount: If you've passed a state-approved rider safety course within the past 36 months, you may be eligible for this kind of discount.
Multi-vehicle discount: If you decide to add more vehicles to your current moped policy, you may expect to pay less for a yearly premium.
Association discount: If you're a member of a specific rider organization, you could qualify for this type of discount. Still, check with your insurer whether they offer something like this.
Need Scooter Insurance in California? Contact H&M Insurance
Riding a moped or scooter carries certain exposures that could bring severe consequences to both driver's health and wallet. To prevent such scenarios, consider purchasing cheap moped insurance at H&M Insurance Agency, and stay protected while hitting the road.
Contact us at (619) 296-0005 and request a quote for the best scooter insurance San Diego can bring.