Everything You Must Know About Mobility Scooter Insurance
Are you in need of mobility scooter insurance but unable to find the right one? Luckily, this comprehensive guide will explain everything you need to know about mobility aid insurance, from its purpose to the most common FAQs.

MULTI MOBILITY SCOOTER DISCOUNT
ACCIDENTAL DAMAGE INSURANCE
INJURY PROTECTION
COMPREHENSIVE COVERAGE
LIABILITY & COLLISION COVERAGE
Mobility aid owners are typically not required to have mobility scooter insurance since they don't ride on public streets. Instead, they are designed to traverse sidewalks, shopping malls, parking lots, buildings, and grocery stores. For those who depend on them, mobility aids are more than just transport modes and more important than cars or bikes. They are also expensive – so if you have a mobility scooter or searching for one, it's crucial to have the proper insurance coverage. Let's scrutinize mobility aid insurance and how it can cover you and your aid.
Do I Need Insurance for Mobility Scooter?
Mobility aids aren't obligated to have specified insurance like you would need auto insurance for a car. They aren't for use on highways or public roads. But because insurance isn't mandatory by law, it doesn't mean you shouldn't have it. You'll want to have two insurance types for your mobility aid  – liability insurance and property insurance. This is as simple as calling your insurance provider to ensure your current homeowners' insurance policy covers you in many situations.
Types of Insurance
There are two types of mobility scooter insurance coverage:
Liability insurance – While a mobility aid won't need a comprehensive liability insurance policy like an auto, it's worth investigating whether liability insurance is right for your needs and use case. The major factor to be considered is the location of use. If you're planning to use your mobility scooter strictly inside your home, the homeowner's liability insurance might cover any accidental damages or injuries. Still, if you intend to use the scooter in the outdoors like most people, liability insurance might be the best option for you;
Accidental damage insurance – Mobility aids are expensive, and repairs can sometimes lead to stress for budgeting projection. Accidental damage insurance will cover you. While most scooters come with a replacement warranty for parts like the battery, they can suffer accidental damage in multiple ways. The repair, also, could take several days sometimes. Accidental damage insurance could ensure that you don't have to put your active lifestyle on hold when your electric convenience vehicle is being repaired.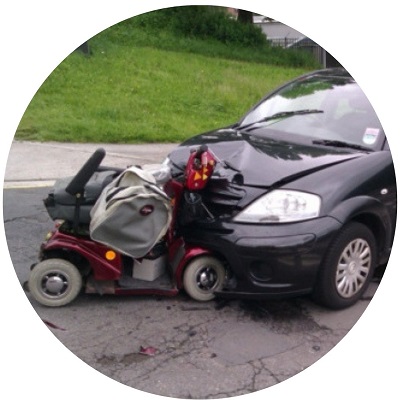 What Insurance Benefits to Look For?
Mobility aid insurance may include a variety of benefits, such as:
Accidental damage repair coverage – As we said, mobility aids are expensive and accidental repairs could cost you a few hundred bucks at a time. Damage insurance features the repair option but might include a limit on the extent of the repair cost. You must be familiar with the cap of your coverage to skip any nasty shock;
Temporary equipment – While it's essential to have the damage repair covered, it could sometimes take several days (mentioned above) to have it repaired. Would you be comfortable putting your normal functioning on hold? If not, ask your insurance provider whether your plan involves temporary equipment in case of repairs;
Lost keys – One of the advantages you might want to consider would be a key replacement covered by your insurance. There's nothing more nerve-racking than losing your keys to your mobility aid;
Around the clock service – What if your scooter breaks down on a late Saturday evening? Do you have someone to call for help? Does your insurance broker cover 24/7 breakdown recovery service? These are some of the questions you should deem asking your insurance company;
Coverage limit – Many insurance plans will come with a cap on the amount of coverage they offer, especially in case of liability insurance. It's recommended to go one level up from what you consider appropriate. Using that method, you'll be at ease knowing that your insurance provider will take care of significant damages, repair, or liability issues for your mobility aid;
Be familiar with your equipment – When speaking with your agent, you'll need to have details like the model, make, purchase date, and vendor along with your insurance plan number, type, amount, etc. Keep these details easily accessible to speed up the claim process in case of damage or theft;
Stay in contact with your insurance provider – Most folks add accessories and customize the scooter to complement their style. These changes could sometimes cost hundreds. If you make these customizations after you bought the mobility aid, It's recommended reaching out to your insurance provider. Let them know about the increased value of your mobility device. Your insurance company may offer the replacement or refund on the scooter value they have on file in the theft event.
How to Choose Right Insurance Provider?
You can tell the type of service of a particular insurance company from online reviews. Most people post their patient experiences for prospective clients of the company to use during the decision-making stage. The amount of time the company takes to approve claims. The rate at which the provider approves or denies claims. These can all be found in Google reviews. The agency needs to have ease or registration and processing.
While at it, you can also research the reputation of approved vendors and healthcare providers. This assures you of good service when you go in for review before approval of the claim. While some policies insist on a reasonable lifetime period, some aren't so strict. If your circumstances have changed, the plan might cover a replacement upon proof. You need to confirm the conditions for this.

What is the Best Policy for Mobility Aid?
The policies will vary in mobility scooter insurance companies. You may not need a mobility scooter at the commencement of coverage but need one at some stage in the contract. There are two things to do if you can't pay out of pocket for the aid. One is to get secondary insurance. It's the inclusion of another plan with the additional requirements. The other is canceling the coverage and taking up another insurance agency.
Prior to cancellation, you must weigh both solutions to see which one will be less expensive. The cancellation procedures of some providers are excessively complicated and costly.
What Are the Advantages of an Independent Agent?
Independent insurance brokers streamline the search process for finding the proper mobility aid insurance. They'll walk you through some carefully selected policy options and clarify the options and details. Most importantly, they'll be there for you when claim time comes. They know the pros and cons of the process and will make sure your claim is conducted adequately.
Will Medicare Cover a Mobility Scooter?
Medicare Part B covers power-operated vehicles (scooters), wheelchairs, and walkers, as DME (durable medical equipment). Medicare covers durable medical equipment if: The physician treating your condition submits a written order claiming that you meet the medical eligibility requirements for a mobility aid.
How much will take up a secondary insurance cover cost? What is the Co-Pay Coverage?
These relevant questions enable you to compare the costs with benefits. Plans that offer lower costs end up costing you more in the long term. A detailed analysis of the small print must be done. You can get either an annual cover or a 3-year contract. The longer, the more affordable. Some policies cover mobility product-related accidents. It may include court costs or charges to get the scooter home after the accident. Others may cover upgrade and repair.
Do Mobility Aids Require Liability Insurance?
While not obligatory, you should have liability insurance for your mobility aid. Still, if you ever have an accident where you cause injury to someone else, you'll need it. That may sound unlikely, but mishaps happen all the time in public walkways, parking lots, and public spaces. You might roll over someone's foot or back into someone. They could sue you for damages if your coverage doesn't cover their medical costs and property damage. Homeowner's liability insurance would cover you if there was an accident at home.
What Are the Limitations of Mobility Aid Insurance?
Some insurance providers may put a limit on the number of times you can file a claim. Also, bear in mind that some policies will only cover the mobility aid you had when the policy started. Therefore, be sure to notify your agent if you decide to purchase a new scooter through policy.
Most Reliable Mobility Scooter Insurance in Town
If you regularly use your mobility aid to get from A to B, our mobility scooter insurance is ideal. Our comprehensive policy covers you for the accident, property damage, and liability  – with no hidden fees or charges. It's exclusively designed to meet the needs of those who rely upon mobility aids to help them live an independent life.
Ready to insure your mobility scooter? Call us today at (616) 296-0005 or fill the form below.