Complete Guide to ATV Insurance in 2022
Do you need ATV insurance? Well, yes. Your all-terrain vehicle could get vandalized, stolen, or damaged. In the worst case, you could be a victim of a mishap.


ATVs are known to give off a kind of thrill that could get anyone out and about. For the past 10 years, the number of injuries and deaths associated with all-terrain vehicles is over 25%. That's why ATV insurance is quite important.
Does ATV Need Insurance?
If you're operating an ATV on state land, or off your property in general, the homeowner's insurance won't cover it. With an ATV insurance policy, you won't miss an off-road adventure.
It protects you if an accident occurs or other causes of damage. This insurance also covers bodily injury and damage to others' property, if you're at fault in an accident. It can pay for legal expenses, likewise other people's medical costs, and lost wages.
And remember, most states require liability coverage for the all-terrain vehicle.
How Does It Work?
4 wheeler insurance works similarly to auto insurance. Because all-terrain vehicles can be risky – for the riders, passengers, and those around them – this insurance is designed to cover the costs associated with a mishap or incident and theft. It helps you recover financially so that the cost of repairs, injuries, and even lawsuits don't end up costing you far more.
If you're in a mishap that results in injuries or damages, your insurance agency can help you get compensation and begin the claims process. First, show any available photos or documentation of what occurred. Then, an adjuster reviews the damage and determine the compensation based on the amount of coverage, the type of loss, and your deductible.
What Does ATV Insurance Cover?
Your ATV or UTV (utility terrain vehicle) requires protection that's different from what your homeowners or auto insurance can provide. Therefore, you need specialized off-road insurance coverage is tailored to meet your unique needs. From accidents to fire, theft, or vandalism cases, you'll be all protected. Further details about this insurance can be read below.
Collision – Collisions are also prone to happen. In this case, collision insurance will cover any damages caused to your all-terrain vehicle. Whether it's subject to an accident or the car just hit an object. In conjunction with the OEM endorsement, it'll work to get your vehicle in good shape;
Comprehensive – Your UTV could get stolen, vandalized, or a victim of a fire. This full-coverage should cover any damages caused to the structure of the vehicle. Plus, pay for any replacements required. It can also insure your vehicle in the case of strong winds, floods, and other weather extremities;
Accessory coverage – Accessory coverage is for items not included as standard by the manufacturer of your UTV/ATV. These can involve, but aren't limited to, windshields, plows, safety guards, racks, custom seats, radios, and more;
Uninsured/underinsured motorist property damage – This insurance can provide additional protection against damage to the ATV or UTV caused by a motorist without coverage or insufficient insurance, and is considered at fault;
Medical payments coverage – Sometimes, health insurance doesn't cover every medical bill. That's where medical payments coverage enters. It can provide excess medical payments coverage for the insured off-road vehicle's driver or passenger regardless of fault;
Funeral expense coverage – Covers to a predetermined amount for funeral expenses related to an accident resulting in the death of an insured rider who was occupied the insured ATV;
Bodily injury liability – Riding a utility terrain vehicle can be dangerous—even for the safest and most experienced riders. Bodily injury liability coverage can protect you if you're at fault in an accident that causes sickness, injury or death to someone else;
Property damage liability – This coverage can provide protection if you're at fault in a UTV/ATV accident that causes damage to someone else's property.

How Much Is ATV Insurance?
On average, it can cost anywhere from a few hundred dollars to over a thousand dollars per year. The ATV insurance cost varies per owner depending on several factors, including:
The state you live in;
Driving history;
The make and model of the ATV;
What you use it for;
How much coverage you buy.
Is ATV Insurance Required?
Unlike car insurance, not all states require that you carry insurance on the all-terrain vehicle. Still, many states do require some coverage if you're using ATV on public land, in public parks, or in state parks. Also, you may be required to buy certain coverage if you're financing your ATV.
Make sure to check if the state where you live and the locations where you plan to use your vehicle require this insurance. Be aware that if you're uninsured and get into an accident, you may be liable for all damages or injuries incurred. So, while UTV insurance is often not required, it can be a smart investment.
How Much ATV Insurance Do I Need?
There are many elements that go into determining how much ATV insurance is adequate. Every all-terrain vehicle is different, and every driver is different.
How you ride your vehicle is a good indicator of how much ATV cover you should have – for instance, whether you use it for dune riding where visibility is good or backwoods riding where hillsides and trees can obstruct your view.
Also, the value of the ATV, the value of the assets you want to protect in the event of a liability claim against you, and how much risk you take while driving can all be signs of how much ATV insurance you require.
Depending on where you drive your ATV, you might be needed to carry bodily injury and property damage liability insurance. Since UTVs and ATVs typically aren't street-legal, there are no state insurance requirements to own a vehicle. However, many state-owned lands and parks allow ATVs only if riders have ATV liability insurance.
ATV insurance isn't needed on private property where someone has permission to drive. For example, an ATV owner doesn't need liability or any other coverage to legally operate their vehicle on land they own or lease. Therefore, ATV drivers should still consider buying a policy to protect themselves and others. If you're involved in an accident and have no insurance, you'll be held financially responsible for damages you cause, likewise costs related to your own injuries and damages to your off-road vehicle.
Does ATV Insurance Cover Drivers and Passengers?
While some families have a set of all-terrain vehicles, others share a vehicle or two and even lend them to friends. If you drive with a family member or bring passengers along on your ride, you may wonder whether passengers are covered.
It typically covers your vehicle and any riders, provided that those operating the quad are at 16+ years old with valid driver's license. In most cases, this coverage extends past you and covers the vehicle whenever it's taken out for a spin by a licensed driver. Ensure to review your coverage carefully with your agent, so you know what is and isn't covered under your policy.
ATV Insurance Cover Limits
Insurance for all-terrain vehicles can be all-inclusive, but don't include coverage under illegal situations. Below are two limitations under the ATV insurance.
Driving in organized racing environments – Any damages or losses incurred while riding here will not be compensated by the cover;
Riding on public roads or highways – It's illegal to operate in either of these two places. There are local marked areas to drive, but they're still considered illegal and unsafe.
If an owner or an ATV is caught driving in either of the above situations, the insurance will deny any claims whatsoever. The only exception allowed for this case is if riding was for emergency purposes.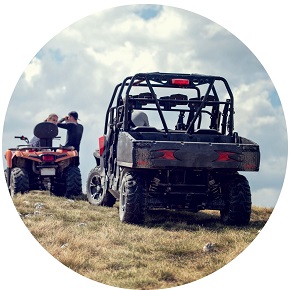 Can Car Insurance or Homeowners Insurance Cover ATV?
No. All-terrain vehicles mostly fall under the motorist insurance policy. Car insurance may not sufficiently cover all aspects of ATV. This insurance may only cover replacements of spare parts and small injuries to the vehicle.
Homeowners insurance lies in a very different section of coverage. Likewise, health insurance, homeowners insurance can only cover bill payments for medical injuries.
According to NAIC, all-terrain vehicles aren't standard vehicles, and they can't be placed in the same category. It would be best to get comprehensive ATV insurance coverage.
Best San Diego ATV Insurance Agency
While you're riding an all-terrain vehicle, the last thing you'll want to wonder about is whether you have the right insurance coverage. With a customized ATV insurance policy from H&M Insurance agency, you can ride with confidence knowing that you're properly insured.
No matter what kind of vehicle you have, whether you ride a 4-wheeler or a golf cart, you can get the insurance you need and the protection you deserve.
Contact us at (619) 296-0005 and request a quote for the best ATV insurance San Diego can bring.